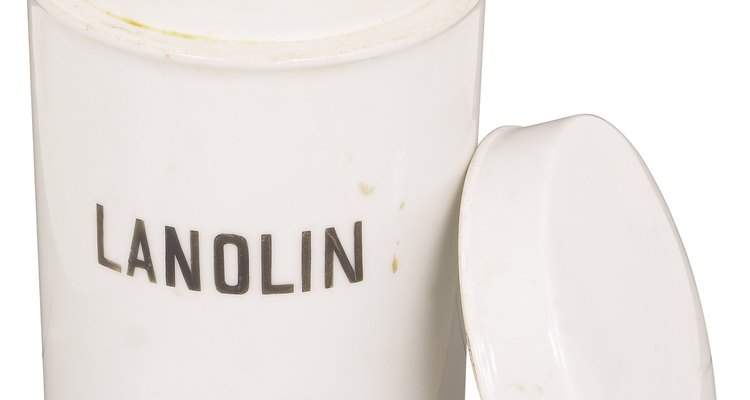 Hemera Technologies/PhotoObjects.net/Getty Images
Lanolin has soothed tender, tired and dried-out skin as far back as the Ancient Greeks. Derived from the oil in sheeps' wool, lanolin deeply moisturizes skin and creates a protective barrier that holds in water and prevents skin from drying out. While it has as long track record as a moisturizing agent, lanolin has many other uses, including being in a variety of skin-care and beauty products for people of all ages. A little information will make it easy for you to see where you can incorporate lanolin into your beauty regimen.
Why It Works For Beauty Regimens
Lanolin is made from grease found inside sheeps' wool, and it is a lipid, or fat, product. With the ability to deeply moistuize and protect, lanolin puts 400 percent more moisture into skin. As a naturally derived compound, lanolin is gentle enough to be used by both children and adults for a variety of skin treatments. Lanolin's increase in popularity can be attributed to it's ability to add moisturizing power to a variety of skin- and hair-care products. In it's pure form, lanolin comes in a yellow waxy substance, and it is also available as a liquid.
Lanolin for Skin Care
With impressive moisturizing power, lanolin is a great asset for skin. Aside from using lanolin-infused moisturizers and lotions, you can rub lanolin cream into stressed cuticles to restore healthy fingernails, toenails, feet and hands. Bring lanolin outdoors in sunscreens that protect from damaging rays while keeping skin moist. Wear lanolin-infused lip balm to heal dry, chapped lips and stop damage from harsh winds, sun or cold temps. Lanolin can also benefit men and women when it comes to shaving -- the moisture softens hair as well as protects skin from the drying effects of regular razor use. To top off your overnight routine, apply a thick, moisturizing cream that contains lanolin to keep skin rich and to maintain skin elasticity.
Lanolin for Hair Care
Adding lanolin to your hair-care routine can transform dry, brittle hair into lush, lovely locks. Lanolin-based shampoos and conditioners smooth hair follicles and can leave your tresses looking their best with a brilliant shine and smooth softness. Lanolin-infused styling products like waxes and cremes help create your perfect look while bringing a softness to your hair. When used sparingly, lanolin can also be applied to the scalp for an overnight treatment to restore dry skin. You can wash the lanolin out with shampoo in the morning -- keep in mind this treatment could discolor your pillow case.
Lanolin in Cosmetics
Keep your face fresh and soft by wearing lanolin-infused cosmetics. Liquid foundation and pressed powders that contain lanolin components both cover skin and moisturize deeply. With regular use, lanolin-based cosmetics will even skin tone and create a healthy glow. Pressed eyeshadows that contain lanolin work to keep the delicate skin around the eye area tight and ward off crows' feet. And don't forget your favorite creamy lipstick -- creamy thanks to the moisturizing powerhouse that is lanolin.
References
Photo Credits
Hemera Technologies/PhotoObjects.net/Getty Images