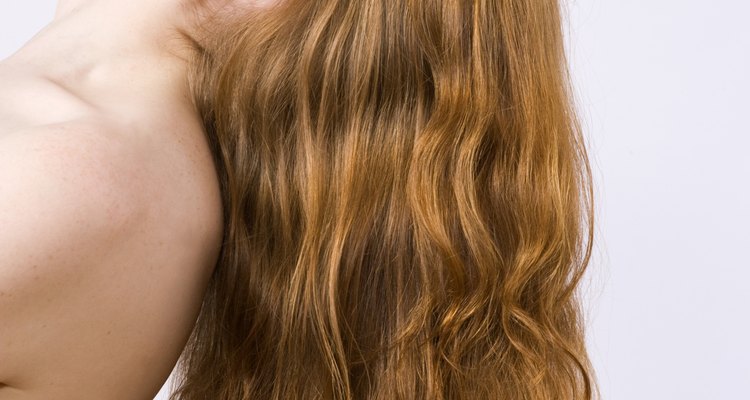 Jupiterimages/Pixland/Getty Images
Hair moisturizers are not only an excellent way to soften and moisturize hair but they can also provide a quick refresher. A water-based moisturizer with oils and conditioning ingredients can be applied and then rinsed out while a moisturizing mist can be used on the go. Lavender is a good oil choice for hair moisturizers as it has a soothing and refreshing quality. You can also use chamomile, lemon or rosemary to moisturize hair.
Moisturizing Mist
Boil 1 qt. water in a pot.
Turn off the heat once the water is boiling and add 5 drops of essential oil. Use lavender, lemon, rosemary or chamomile depending on your preference. All four oils will moisturize hair equally well.
Cover the pot with the lid and let the oils steep in the water until the water is cool.
Pour into a spray bottle and spritz on hair.
Conditioning Moisturizer
Mix ½ cup water, ½ tbsp. aloe vera, ½ tbsp. liquid glycerin, 2 tbsp. conditioner, 1 tsp. olive oil, 3 drops ylang ylang oil and 3 drops jojoba oil in a bottle.
Apply to your hair and massage into your hair completely. Let the moisturizer sit for 5 minutes.
Rinse the moisturizer out and style hair as desired.
References
"Naturally Healthy Hair: Herbal Treatments And Daily Care for Fabulous Hair"; Mary Beth Janssen; 1999
"The Hair Bible: A Complete Guide to Health and Care"; Philip Kingsley; 2003
"The Green Beauty Guide: Your Essential Resource to Organic and Natural Skin Care, Hair Care, Makeup, and Fragrances"; Julie Gabriel; 2008
"Natural Beauty Basics: Create Your Own Cosmetics and Body Care Products"; Dorie Byers; 2001
"The Herbal Home Spa: Naturally Refreshing Wraps, Rubs, Lotions, Masks, Oils, and Scrubs (Herbal Body)"; Greta Breedlove; 1998
Writer Bio
Melissa Hamilton began writing professionally in 2007. She has enjoyed cooking creatively in the kitchen from a young age. In addition to writing cooking articles for various publications, she currently works in the restaurant industry as a food and beverage trainer.
Photo Credits
Jupiterimages/Pixland/Getty Images