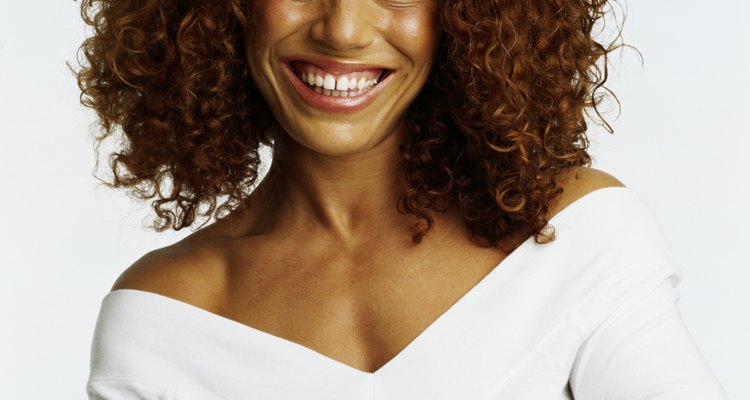 Digital Vision/Digital Vision/Getty Images
Extensions offer an easy solution to hair woes. If you are curly haired, or transitioning from chemically processed hair, curly extensions protect your locks from harsh elements and increase styling options. When selecting hair for your extensions, there are two types to choose from: human and synthetic hair. Synthetic hair can be drying or abrasive to your own hair while human hair extensions require more maintenance. Regardless of your choice, your hair underneath needs nourishment. Learning how to properly moisturize your curly extensions will keep them looking fresher longer and your natural hair beneath hydrated.
Deep-conditioning Your Mane
Step 1
Shampoo hair with a product specifically formulated for curly hair or extensions. Rinse the hair thoroughly to remove all shampoo residue.
Step 2
Take a generous amount of a moisture-rich conditioner and saturate wet hair from root to tip, focusing on the ends. De-tangle extensions gently with a wide-tooth comb to evenly distribute conditioner. Do not wash out conditioner.
Step 3
Place hair into a shower cap and deep-condition by letting the conditioner sit on your hair for 30 minutes. After 30 minutes, thoroughly rinse the conditioner and lightly dry with a towel, leaving hair slightly damp.
Step 4
Part hair into four sections and apply a moisturizing leave-in conditioner to the length of the hair. Sit under a hooded dryer or air-dry hair until it is no longer damp.
Step 5
Apply a curl-enhancing product, such as a defining mousse or anti-frizz serum, and style hair as usual. Lastly, spray hair with oil sheen or weave spray to impart shine and softness.
References
Tips
Sleeping with a satin bonnet or pillowcase at night alleviates tangles and keeps moisture from being wicked from your locks while you sleep.
Spritzing the hair with water throughout the day helps to stave off dryness.
Warnings
Make sure your hair dries completely to avoid fungal infections from constantly damp hair and scalp.
Writer Bio
Tara Thomas has been a writer and traveler since 1997. Her articles appear in various online publications. She also has experience authoring grant proposals for a Southern California marine science laboratory, which helped her develop a lifelong interest in environmentalism. Thomas is an event planner, has a Bachelor of Science in marine biology from California State University, Long Beach, and worked as a mortgage consultant since 1998.
Photo Credits
Digital Vision/Digital Vision/Getty Images