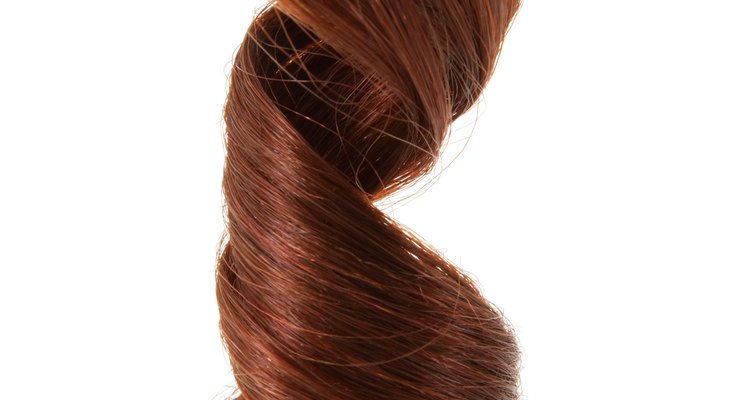 Thomas Northcut/Digital Vision/Getty Images
Wearing weaves and extensions are a way for women to quickly transform their look and take their hair from short to long. Although the styling option offers convenience, like normal hair, weaves made from human hair can become dry and unmanageable. For women in this predicament, moisturizing products and a basic silk scarf can make the difference between damaged hair weave and soft locks.
Give the human hair weave a conditioning treatment by applying a natural oil such as coconut oil, extra virgin olive oil or grape-seed oil along the entire length. Alternatively, apply the moisturizing conditioner to the hair. Leave either the oil or conditioner in the hair for 30 minutes under a shower cap.
Wash the human hair weave with a moisturizing shampoo. Use your fingers to carefully clean the scalp between tracks and rinse thoroughly.
Apply moisturizing conditioner from scalp to hair tips and apply extra conditioner to the ends. Allow the conditioner to sit for two to five minutes before rinsing thoroughly. When rinsing, cautiously undo any tangles in the weave with your fingers or with a comb.
Apply a deep conditioner and leave on for 15 minutes or more. Wear a shower cap to trap heat and aid in the conditioning or sit under a dryer. Once conditioned, rinse thoroughly, use fingers to untangle and squeeze out all excess water.
Comb out the hair and allow it to air dry for approximately 15 to 20 minutes. Apply a moisturizing product along the entire length and apply extra to the ends. Also apply a dime-sized amount of thermal product to protect hair during the styling process.
Blow-dry hair with low heat using a comb to aid hair drying. Follow up with a brush to straighten.
Style hair with a flat iron for a straight hair look or with a curling iron to produce curls and waves. Start from the front of your head and work backwards until entire head is completed.
Wrap a silk or satin scarf around your head at night to keep hair from drying out on cotton pillow cases and bedsheets. Alternatively, use silk or satin pillowcases and bedsheets.
References
Writer Bio
Sydelle John is a lawyer who started writing professionally in 2007. She has written for the Guardian's Comment is Free and Pambazuka News, which focuses on pan-African issues. John has a Juris Doctor from the George Washington University Law School and a Bachelor of Arts in political science from Vassar College.
Photo Credits
Thomas Northcut/Digital Vision/Getty Images