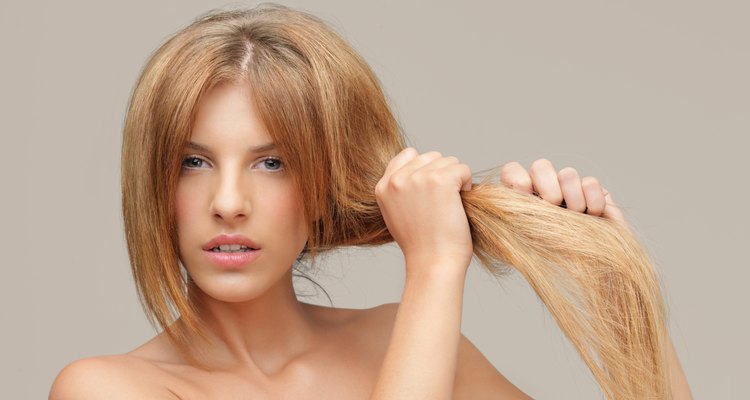 Dan Dumitru Comaniciu/iStock/Getty Images
When most people think of frizzy hair, they envision wavy or curly hair puffed up to look dry and untamed. However, straight hair gets frizzy, too, and might end up shriveling or kinking when exposed to humidity or harsh hair treatments. To get rid of frizzy straight hair, you'll need to take direct measures to improve the health of your hair and to protect it when you know you'll be in unfriendly hair environments.
Get your hair trimmed often. Having your split ends cut off every four to six weeks will improve the health of your hair and prevent it from frizzing out or showing damage from styling.
Rinse with cold water after washing or conditioning your hair. Cold water allows the hair cuticle to lie flat and smooths frizz.
Use moisturizing hair products only. Shampoos and conditioners should include a moisturizing formula and contain humectants to smooth rough edges and split ends.
Apply a leave-in conditioner to damp hair to prevent damage and split ends, which can cause frizz. Gently remove tangles with a wide-tooth comb while causing as little damage as possible.
Avoid blow drying your hair. Likewise, use a towel to remove excess water from your hair without rubbing "against the grain" or upward along the hair shaft, which can cause frizz.
References
Writer Bio
Brenda Barron is a writer, editor and researcher based in Southern California. She has worked as a writer since 2004, with work appearing in online and print publications such as BabyZone, "Cat Fancy" and "ePregnancy." She holds a Bachelor of Arts in English literature from California State University, Long Beach.
Photo Credits
Dan Dumitru Comaniciu/iStock/Getty Images