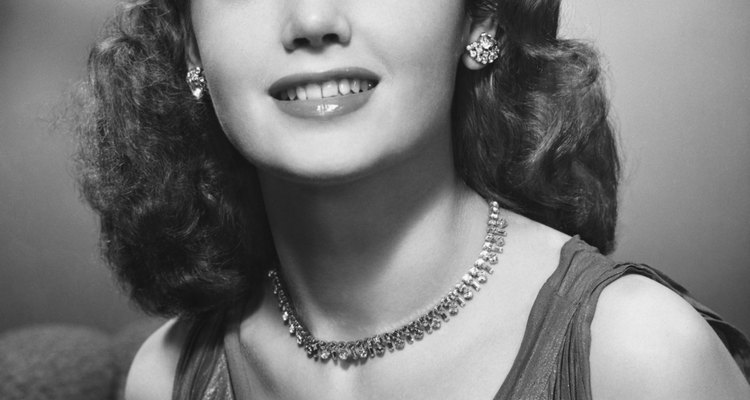 George Marks/Retrofile/Getty Images
Hairstyles come and go, but retro pinup curls are forever glam and gorgeous. This screen siren-inspired hairstyle, made popular in the 1940s, '50s and '60s, is just as wearable for today's modern beauties. To unleash your inner Rita Hayworth, Dorothy Dandridge or Marilyn Monroe, you can easily recreate these star-worthy waves without a visit to the salon. For a special event or a holiday party, add a little va-va-volume to your hair in a few simple steps.
Step 1
Begin with freshly washed, conditioned and blown out hair. Adding curls to dirty or wet hair may cause breaking or burning of your strands.
Step 2
Use a 3 ½-inch curling iron to create soft curls all around your head. Wind a 2-inch section of hair vertically around the curling iron. Make sure you curl the hair inward toward your face. To prevent damaging your hair, hold the curling iron on your hair for five seconds or less.
Step 3
Slide your hair out of the iron and pin with small, flat metal clips. Repeat until you cover your head with pinned curls.
Step 4
Spray a medium hold hairspray on hair to set the curls. Allow the curls to cool for at least 10 minutes.
Step 5
Put a pea-sized amount of shine serum on your hands. Run the product lightly through the hair to separate curls. To create smooth waves, lightly brush hair with a soft, boar bristle brush. Mist hair generously with the hairspray to set the style and tame flyaways.
References
Tips
To make your hairstyle appear more romantic and glitzy, pull one side of the hair back near the ear and add a jeweled barrette.
If your fine hair tends to fall flat, build height at the roots with a volumizer. Spritz the product at the roots before blow drying hair.
Writer Bio
Mimi Abney is a lifestyle writer specializing in online content for women. Her work has appeared in NewsOK.com and "Keepsake Magazine," among other publications. With over 15 years of writing and editing experience for the web and print, Abney is also a contributor to online health, beauty and fashion publications. She holds a Bachelor of Science in biology from Spelman College.
Photo Credits
George Marks/Retrofile/Getty Images