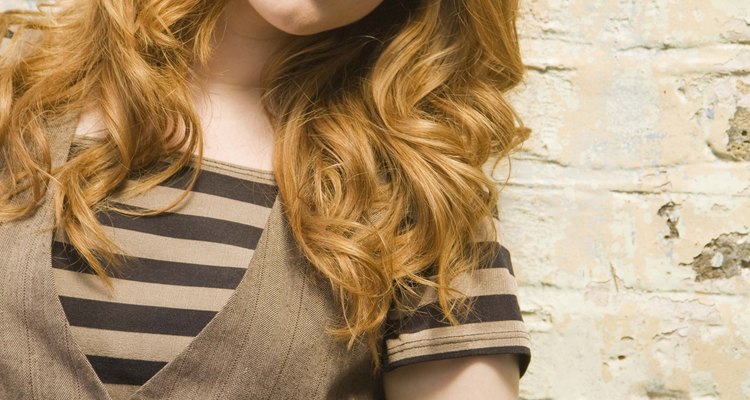 Jupiterimages/BananaStock/Getty Images
Flowing, loose curls look soft and romantic and can add visual interest and lift to otherwise flat hair. Almost any hair type can get bounce and volume with a quick style from a curling wand. This heated hair appliance is perfect for adding soft texture to an updo by curling a few loose wisps, or if you have a little more time, creating a head full of curls.
Step 1
Select a curling wand with a wide barrel. A 32mm wand barrel is a good size for loose spirals.
Step 2
Brush out your hair then clip the top layer up and out of the way using an alligator clip. If you have a lot of hair, you may need a few clips.
Step 3
Put on the heat-protective glove that comes with your wand kit. Some curling wands may not include a glove. If this is the case, be very careful not to touch the hot wand with your fingers.
Step 4
Grasp a 2-inch section of hair with the gloved hand, and wrap it around the heated wand barrel. Leave some space between the hair coil for a loose, wavy curl. If your curl looks too tight when you release it from the wand, pull the end of the curl to make it relax.
Step 5
Finish curling the bottom layer of hair, then release the clips to let down the top portion. Use the wand to curl 2-inch sections again, making sure to curl the hair away from your face.
Step 6
Let the curls cool for a few minutes before you handle them. To loosen the curl, lightly run your fingers through the hair. Spray the hair lightly to keep the curls intact.
References
Tips
Start the curls at the ear level or below for a softer style.
If you have frizzy ends, use a flat iron to smooth them out.
Writer Bio
Mimi Bullock's writing reflects her love of traveling the back roads of small towns and sampling the local cuisine. As a regular feature writer for "Southern Hospitality Traveler" and journalist for "Beachin' Magazine," she gets to experience the rich heritage of the southern culture. She is also a licensed cosmetologist who has her own skin care line.
Photo Credits
Jupiterimages/BananaStock/Getty Images