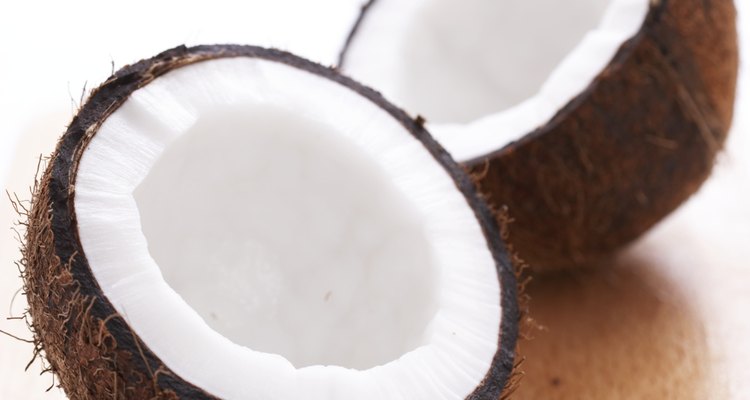 Martin Poole/Digital Vision/Getty Images
Coconut oil not only works as a deep conditioner, it can replace your anti-frizz hair serum. African-American women transitioning from relaxed to natural hair often use coconut oil as a pre-shampoo deep conditioner, but anyone with frizzy hair can use it to tame wayward locks. Coconut oil not only gives your hair a healthy sheen, it has none of the silicones often found in hair serums, making it an ideal styler for those who want to use more natural products. As an added bonus, it gives your hair a beachy, tropical smell.
Step 1
Apply a generous amount of coconut oil to dry hair before going to bed the night before you wash. Focusing on the ends, work the oil through your hair with your fingers or gently comb it through with a wide-toothed plastic comb. Wrap your hair in a bun and cover it with a shower cap.
Step 2
Wash your hair the next morning with a sulfate-free, moisturizing shampoo. Follow the shampoo with a rinse-out conditioner and a leave-in conditioner, if desired.
Step 3
Dry your hair with a blow dryer with a diffuser attachment, or allow it to air dry. If your hair needs extra frizz control, work a pea-sized amount of coconut oil into your hair before drying, avoiding your scalp.
Step 4
Scoop a small fingertip full of coconut oil out of the jar or squeeze a few drops of liquified oil out of a bottle. Rub it between your palms. If your coconut oil is solid, the heat from your hands will melt it quickly.
Step 5
Smooth the coconut oil through your hair, applying only from the ears down, paying special attention to the ends. Avoid your scalp to keep your hair from looking greasy. If you need frizz control on the top of your head, use a tiny amount and lightly rub your hands over the surface of your hair.
References
Tips
Use an old pillowcase when sleeping with coconut oil in your hair, as it can leave grease spots behind.
You don't have to wash your hair after applying coconut oil unless you use it as a deep conditioner. You can also apply it to wet hair after showering or use a small amount on dry hair to tame frizz.
Use unrefined, virgin coconut oil for maximum benefits. The oil should be white, creamy and smell like coconuts.
Rub any excess coconut oil on your hands into your skin instead of using lotion. You'll probably have just enough left to use as a facial moisturizer, and it will sink into your skin quickly.
Writer Bio
S.R. Becker is a certified yoga teacher based in Queens, N.Y. She has a Master of Fine Arts in creative writing and has worked as a writer and editor for more than 15 years. Becker often writes for "Yoga in Astoria," a newsletter about studios throughout New York City.
Photo Credits
Martin Poole/Digital Vision/Getty Images