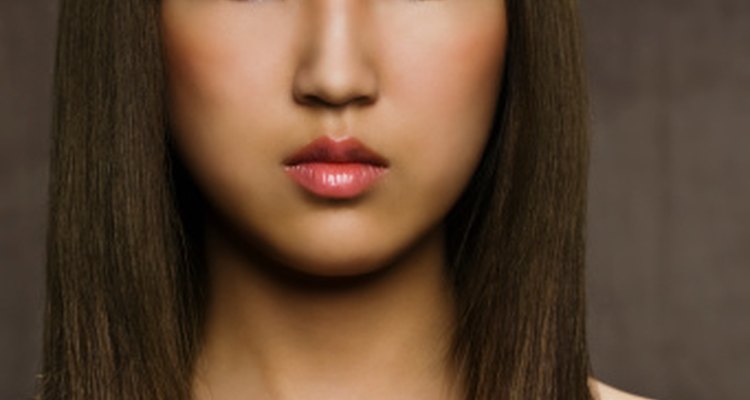 Ralf Nau/Lifesize/Getty Images
Worn with long hair or a short bob, straight, blunt bangs look chic and modern. Straight bangs also bring out the angles of your face and your eyes. However, if your hair is naturally wavy, keeping your bangs straight requires a bit more daily effort.
Brush your bangs downwards when blow drying your hair to keep them straight. Use medium heat and angle the dryer, so that it points downward from your crown.
Apply a dollop of straightening serum or balm to your bangs Spread serum onto your palms and smooth over your bangs evenly. Also look for straightening serums which moisturize, repair and protect your hair from heat.
Straighten your bangs with a flat iron, on a low to medium setting. Straighten your bangs in three or four sections. When straightening your bangs, run the iron quickly over a section of your bangs from the top to the ends. If you want a bit more volume or softness, brush your bangs with a round brush after straightening.
Sweep a dime-sized amount of shine serum over your bangs to create a healthy, shiny glow. Shine serum will also smooth over any flyaways,dryness or frizz.
Trim your bangs every three or four weeks to keep them straight, blunt and out of your eyes.
References
Writer Bio
June Lee has been writing professionally since 1999. Her areas of expertise include education, art, fashion and travel. She holds a B.A. in English and has been writing online professionally since August 2010.
Photo Credits
Ralf Nau/Lifesize/Getty Images