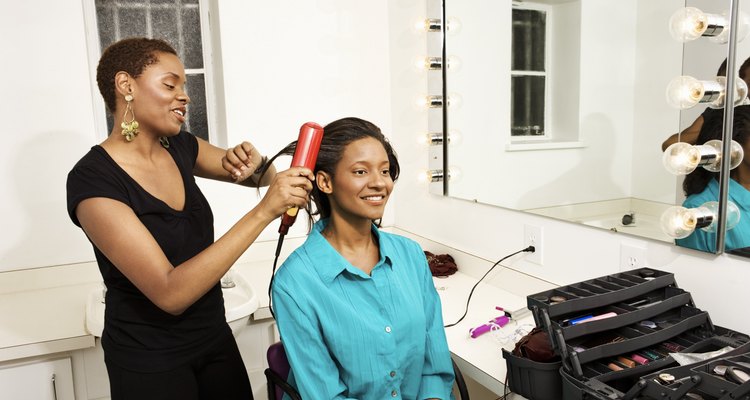 Jupiterimages/Comstock/Getty Images
A hair weave is a popular hair treatment where either synthetic hair extensions or human hair extensions are sewn into a person's hair, usually close to the scalp. People usually get hair weaves if they dislike the natural texture of their hair or when they desire thicker or longer hair. If your hair weave is made from natural human hair, you can straighten it using a flat iron in the same way you would straighten your natural hair. On the other hand, if your hair weave is made from synthetic hair extensions, you should check with your hair stylist before heat straightening your weave since it can damage or even melt your weave.
Step 1
After shampooing, dry your hair using a hair dryer or let it air dry.
Step 2
Use a comb or brush to gently remove any tangles in your hair. Start by detangling the bottom of your hair before working your way up towards the scalp. Be sure to brush the underside of your hair, as it is especially prone to tangles.
Step 3
Apply a dime-sized amount of heat protectant hair product to your hair, then brush it through your hair, distributing evenly. While this step is optional, a heat protectant product can help reduce thermal styling damage to your weave.
Step 4
Separate your hair into 1 to 2 inch sections using small hair clips.
Step 5
Turn your flat iron on to a low setting.
Step 6
While facing a mirror, run the flat iron quickly down a 1 to 2 inch section of hair, starting at the roots and then making your way toward the ends. If this does not straighten the section of hair, increase the flat iron's temperature to a maximum of 350 degrees, then run the flat iron through the section of hair for a second or third time. Repeat this process until the entire head has been straightened.
Step 7
Turn off and unplug your flat iron.
Step 8
Comb through your hair to remove any tangles.
References
Resources
Tips
The less you flat iron or heat style your weave, the longer it will last.
Consider having a friend flat iron the hard to reach sections of your weave on the back of your head.
Warnings
It is very easy to burn your hands, ears, scalp, face or neck with a hot flat iron, so make sure you are paying attention and always use a mirror when flat ironing your weave. Do not let children operate a flat iron.
To protect your hands when using a flat iron, consider wearing a heat resistant glove for hair styling, which can be purchased at most beauty supply stores.
Writer Bio
Lisa S. Kramer is a licensed attorney practicing civil litigation and estates and trusts law in southern Florida. She received her Bachelor of Arts in English from the University of Florida, where she graduated Phi Beta Kappa and cum laude. Kramer earned her Juris Doctor from the University of Florida Levin College of Law.
Photo Credits
Jupiterimages/Comstock/Getty Images