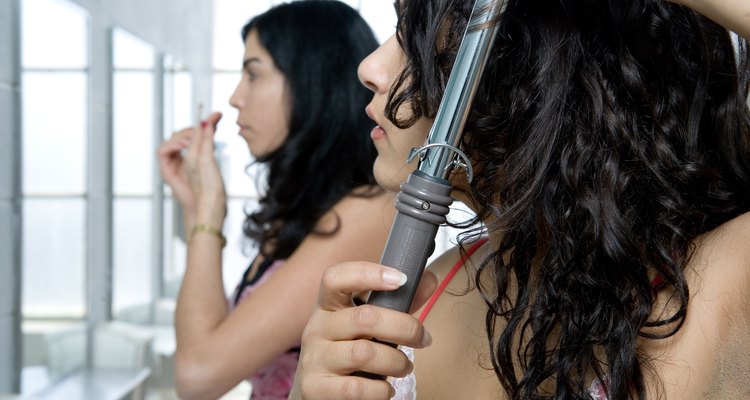 Jupiterimages/Photos.com/Getty Images
Curly hair with long, flipped-up bangs is a classic style perfect for both a first date and the red carpet. Gone are the days of 1980s bangs, clamped inside a curling iron, rolled straight upward and stiffened with hairspray. Instead, today's bangs are soft and flowing, blending in seamlessly with naturally curly or curled hair. The key is the difference in wrapping technique. Pinning the hot hair in place helps preserve the upward flip of the curl.
Step 1
Separate your bangs from the rest of your hair with a comb. Spray heat-protectant hairspray on your dry bangs. If your hair is color-treated, add a color-protectant serum to your dry bangs before spraying on the hairspray.
Step 2
Divide your bangs into two equal sections by combing them forward and parting them in the middle. Let one section hang down to the side. Hold the other straight up from the middle of your forehead.
Step 3
Hold a 1 1/4-inch or larger curling iron horizontally behind the roots of the section of bangs you are holding. Wrap the section over the top of the curling iron and toward the back of your head, holding the tips of your hair with the thumb and forefinger of your non-dominant hand.
Step 4
Spiral the hair around the barrel of the curling iron,working toward the end opposite the handle. The roots of your hair should be near the handle of the curling iron.
Step 5
Hold the curling iron in your hair for 10 to 15 seconds. Slide the curling iron out or the hair and set it down. Keep holding the ends of your curl.
Step 6
Spiral the ends of your hair inward like you're making a cinnamon roll. Curl the cinnamon-roll shape upward and keep it flat against your head. Clip the curl in place with a bobby pin or duckbill clip. This is called a pin curl, and it's a classic retro styling technique.
Step 7
Repeat the steps above to make the second curl with the bottom section of hair. Allow your hair to cool completely, then unpin the curls and style your curled bangs as desired.
References
Warnings
Use the curling iron with care so as to avoid burns.
Writer Bio
S.R. Becker is a certified yoga teacher based in Queens, N.Y. She has a Master of Fine Arts in creative writing and has worked as a writer and editor for more than 15 years. Becker often writes for "Yoga in Astoria," a newsletter about studios throughout New York City.
Photo Credits
Jupiterimages/Photos.com/Getty Images