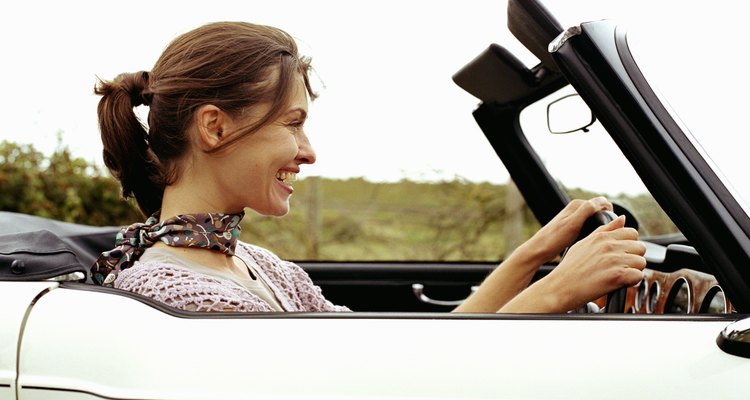 David Oldfield/Photodisc/Getty Images
When you're headed to the gym or the grocery store, it's convenient and quick to throw your hair into a ponytail. If you plan to leave home for the whole day, though, your ponytail might not stay in place as long as you'd like. Ponytails have a bad habit of drooping, falling or coming undone a few hours after you've put up your hair. With the right products and technique, you can keep your ponytail in place all day.
Step 1
Dampen your hair with water before putting it into a ponytail. If you've just showered, let your hair dry until it's damp.
Step 2
Rub a volumizing product into your hair from the roots to the ends. This gives your hair a boost and keeps it from falling flat.
Step 3
Apply mousse, dry shampoo or a few spritzes of hairspray to your hair to give it some texture. Work the product through with your fingers or a wide-tooth comb.
Step 4
Blow-dry your hair if it's still wet or damp. Don't put your hair in a ponytail until it's dry.
Step 5
Pull your hair behind your head. Hold your hair in one hand, and then pull it up toward the crown of your head.
Step 6
Brush your hair with a boar-hair paddle brush. This will help smooth it down and eliminate frizz.
Step 7
Tilt your head back slightly; brush smooth the hair on the nape of your neck. This keeps your ponytail from sagging.
Step 8
Secure the ponytail with a slip-resistant elastic hair tie. The elastic grips your hair and helps keep the ponytail in place.
Step 9
Brush the ponytail with a tail comb to get rid of bumps and uneven spots.
Step 10
Spray the finished ponytail with light- or medium-hold hairspray. This helps your hair stay smooth all day.
References
Resources
Tips
Spray hairspray on a clean toothbrush, and then use it to smooth down frizz and fly-aways without flattening your hair.
Writer Bio
Melissa King began writing in 2001. She spent three years writing for her local newspaper, "The Colt," writing editorials, news stories, product reviews and entertainment pieces. She is also the owner and operator of Howbert Freelance Writing. King holds an Associate of Arts in communications from Tarrant County College.
Photo Credits
David Oldfield/Photodisc/Getty Images