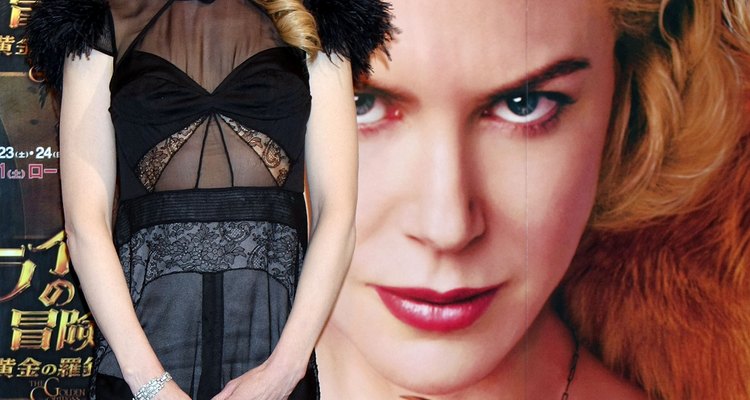 Junko Kimura/Getty Images Entertainment/Getty Images
Clusters of large, bouncing curls breath life into any ponytail. If you're looking for something just as polished but a little different, create one single bouncy ringlet instead -- you'll still get lots of great volume while standing out in a very chic way. This look is incredibly feminine and sweet but still looks refined. Wear your single-ringlet ponytail to your next fancy event and watch heads turn. All you need is a curling iron, a few styling tools and a few minutes and your ponytail will spring beautifully to life.
Step 1
Brush your hair into a ponytail and secure it with an elastic band. The placement of your ponytail is up to you, so wear yours at the nape of the neck or all the way up to the crown of the head. For a demure yet modern look, wear your ponytail low and to the side.
Step 2
Spritz your ponytail with a heat-protectant spray to avoid heat damage.
Step 3
Section off 1/3 of the hair in your ponytail to curl. Clamp your curling iron at the ends of the hair of this section and roll your iron up to the base of your ponytail, holding the curling iron vertically. Wait up to 20 seconds, then release your hair from the iron -- your exact wait time will depend on the thickness of your hair. If your hair is on the drier, thinner side, hold the hair in the curling iron for a shorter period of time.
Step 4
Repeat this curl on the second 1/3 of the ponytail and then on the remaining 1/3 of the ponytail.
Step 5
Use your fingers to gently comb through your curls. They should fall into each other to form a single ringlet. If they're a little resistant to this, just gently use your fingers to guide two of your curls inside of the third curl to form one large curl.
Step 6
Spritz your ponytail with hairspray to keep your curl in place. If you have flyaways, mist some hairspray onto your hands and run your hands over your hairline to lay the hair flat.
References
Warnings
A single ringlet curl works best on thin hair. If you have a very thick hair texture, it may be a bit tougher to get your hair to curl into one single ringlet.
Writer Bio
Pamela Simmons has been writing professionally since 2009. Her articles on fashion, beauty and other topics have appeared on Denim Therapy and other websites. Simmons serves as an editor and public relations manager for CHIC.TV. She holds a Bachelor of Science in international affairs from Georgia Tech and a Master of Business Administration from Mercer University.
Photo Credits
Junko Kimura/Getty Images Entertainment/Getty Images