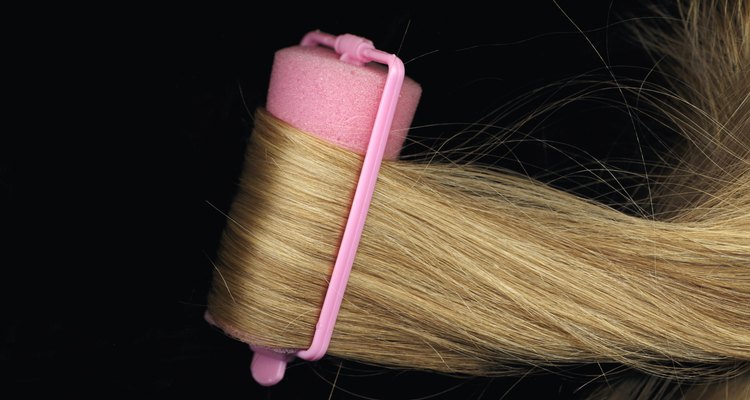 Siri Stafford/Photodisc/Getty Images
Cheerleaders, especially those who participate in cheer competitions, typically have to wear their hair in the same style as the rest of the squad. A ponytail with a large bow on top of the head keeps your cheerleader's face free of site-obscuring swathes of hair. Use sponge rollers to create a ponytail with a tight, spiral curl. Making cheer curls that will stay in place through a game or competition requires plenty of stiff-hold hair-styling products once the curl is in place.
Step 1
Wash your hair or wet your hair down under the faucet or spraying it with a spray bottle. Work a quarter-sized, or larger, dollop of firm-hold hair gel into your hair and comb it through with a fine-toothed comb.
Step 2
Comb your hair away from your face, smoothing it with your hands as you comb. Pull it into a tight, high ponytail. Secure the ponytail with an elastic.
Step 3
Open your sponge rollers and put them in a pile where they'll be easy to access while you work. Depending on the thickness of your hair and the number of curls you want, you may need 20 or 30 rollers.
Step 4
Comb a half-inch section of hair from the top of the ponytail. Spray the section of hair with hairspray.
Step 5
Wrap the ends of the hair over the top of a sponge roller and wind the roller up to the ponytail elastic, keeping the hair tight as you wind it around. Snap the roller shut when you reach the elastic holding your ponytail.
Step 6
Continue rolling half-inch sections of hair in this manner, working from the top to the bottom of the ponytail. The rollers will form a bun on top of your head.
Step 7
Cover your hair with a satin scarf to protect your curls and sleep on the rollers overnight. If your hair is not completely dry the next morning, dry it with a blow dryer or sit under a hood dryer with the rollers still intact.
Step 8
Carefully unsnap and unwind the rollers. Wind each curl around your finger after taking the roller out to guide a perfect spiral. Spray each spiral with hairspray again before removing your finger.
Resources
Tips
If you don't have time to style your own cheer curls, look for ponytail hairpieces that are already curled. You can find these through cheerleading websites and wig stores.
Warnings
Do not brush or comb your curls after you unroll them, as this can ruin your spirals and cause your hair to frizz.
Writer Bio
S.R. Becker is a certified yoga teacher based in Queens, N.Y. She has a Master of Fine Arts in creative writing and has worked as a writer and editor for more than 15 years. Becker often writes for "Yoga in Astoria," a newsletter about studios throughout New York City.
Photo Credits
Siri Stafford/Photodisc/Getty Images