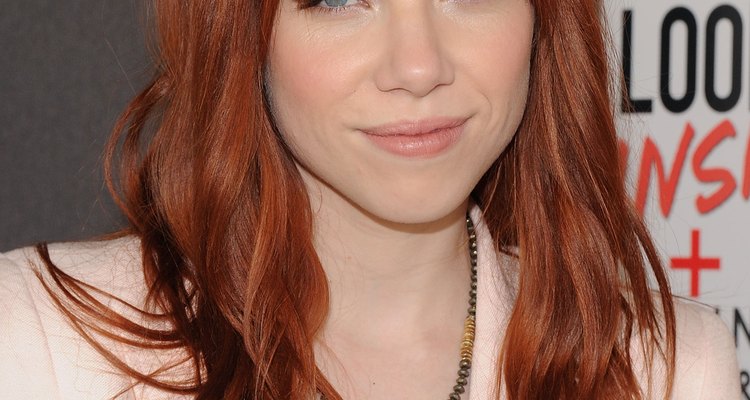 Jamie McCarthy/Getty Images Entertainment/Getty Images
You finally committed to making the big chop -- even though you know the humidity is going to make sporting a set of bangs a little bit of a hassle. Fortunately, though it takes a bit more work than going without fringe, a variety of helpful products and guidelines will help you keep those forehead-sweeping tresses sleek and smooth even during the balmiest of days.
Step 1
Shampoo and condition your hair in the shower with products formulated to moisturize or hydrate tresses. Dehydrated hair has a greater tendency to become frizzy.
Step 2
Apply a smoothing serum to wet hair. Choose an anti-frizz serum specifically if you have curly hair to keep your bangs as smooth as possible.
Step 3
Brush your bangs apart from the rest of your hairstyle when the hair is still wet. Dry that portion of your hair first to get the bangs as straight as possible before they begin to air-dry. Blow dry your bangs with the blow dryer pointed down toward the ends. Use a vented brush to direct the hair to one side for a few strokes, then switch to the opposite direction. Continue switching back and forth until the bangs are completely dry.
Step 4
Flat iron your bangs, angling them in at the ends, slightly toward your face, for a more natural appearance, unless you prefer stick-straight fringe.
Step 5
Gently mist your bangs with light hairspray to keep them in place. Choose the lightest hold possible and avoid overdoing it so your bangs remain natural looking rather than stiff.
References
Tips
Choose a mini-flat iron for a more manageable take on straightening your bangs and to prevent accidentally tapping and burning surrounding skin.
Consider a straightening treatment from the salon for hair that remains frizz-free for an extended period of time. This will help bangs remain smooth even in humid conditions.
Writer Bio
Tarah Damask's writing career began in 2003 and includes experience as a fashion writer/editor for Neiman Marcus, short fiction publications in "North Texas Review," a self-published novel, band biographies, charter school curriculum and articles for various websites. Damask holds a Master of Arts in English and creative writing from the University of North Texas.
Photo Credits
Jamie McCarthy/Getty Images Entertainment/Getty Images