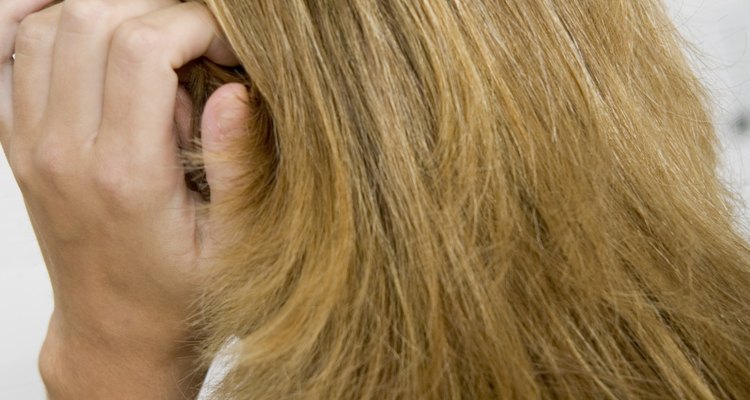 Jupiterimages/liquidlibrary/Getty Images
Have everyone thinking you just stepped out of the salon by styling your layered hair sleek and straight. Whether you have long-layered tresses or a medium-length style, all you need are hair products, a blow dryer or a ceramic flat iron to create the legendary look from the '70s. The layered look is cut to create texture in your hair which will show through once it is straight. In addition, if you have highlights or lowlights, the sleek style will reflect the various colors creating a glossy sheen.
Wash and condition hair with products tailored to your hair type. Dry your hair with a towel to remove moisture. Hair that tends to frizz easily should be washed with a moisture-rich shampoo and then conditioned. Massage the shampoo into your scalp and hair then rinse completely. Use a quarter-size amount of conditioner and apply to the tips of your hair. Leave conditioner in your hair for five minutes and then rinse.
Apply a straightening balm to your palms and rub. Work the straightening balm through your hair from roots to tips. Use a comb to comb through your hair to ensure the balm is distributed evenly. In addition to the balm, apply a heat-protectant spray to your hair to combat against heated styling tools and ultraviolet rays.
Brush your hair with a paddle brush that contains bristles. Brush the hair underneath first and then move to the top of the hair. Set the blow dryer to medium heat and hold 5 inches from your hair. Pull the brush down your hair and dry as you pull. Continue brushing and drying your hair until it is completely dry.
Heat a ceramic flat iron, which will retain moisture, to flatten the layers. In addition, a ceramic iron will help keep flyaway's at bay. To use the ceramic flat iron you will pull a 2-inch section of hair outward and insert between the flat base and spring clamp of the iron. Pull the hair downward slowly to flatten the hair. Repeat with other sections until the hair is straight.
Apply an anti-frizz serum to the hair to further control flyaways and to create a sleek style. The serum should be applied to the tips of the hair first and worked upwards to the roots. This will prevent the hair from look too shiny or greasy.
References
Writer Bio
Tabitha Harwell has been writing since 2008, with articles appearing in local publications and various websites. Her background includes a career in the fashion and beauty industry. Harwell holds a Bachelor of Arts in public relations.
Photo Credits
Jupiterimages/liquidlibrary/Getty Images