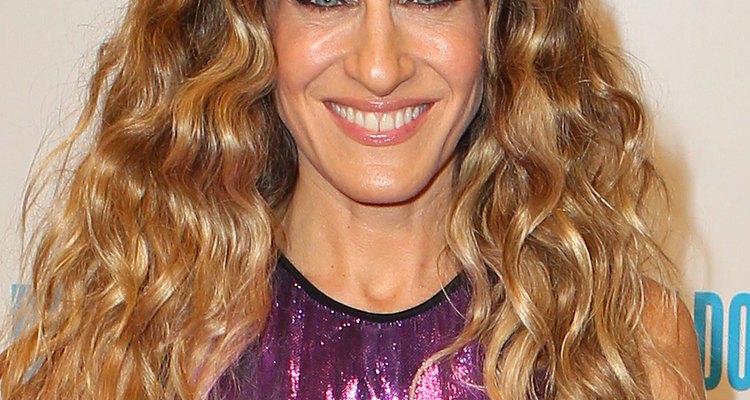 Scott Barbour/Getty Images Entertainment/Getty Images
If you caught even a single episode of "Sex and the City" when Carrie Bradshaw had her golden tresses in their full glory -- spirals upon spirals of not-too-polished hair with an enviable, effortless-chic quality -- you probably experienced that moment when you pondered how you might ever get your hair to look just like that. While this hairstyle takes a few more styling tools than you may be used to using in one sitting, it's an achievable look that is sure to turn a few heads.
Step 1
Apply styling product to your hair without applying it to the ends -- this keeps hair looking natural and a bit rough-and-tumble instead of too sleek or polished. Choose a product like smoothing lotion or texturizing spray; for hair that is already coarse, choose the smoothing lotion to decrease frizziness -- look for an anti-frizz formula containing ingredients to create sleeker hair, such as shea butter, argan oil or silicone. For straight to medium hair without a naturally coarse texture, use the texturizing spray to create the depth needed for this style; look for products with sea salt, for example, formulated to improve hold and texture so your hair can keep a curl.
Step 2
Blow your hair out straight with a blow dryer and a paddle brush for a smooth, sleek finish.
Step 3
Curl your entire head of hair with three different-sized curling irons -- stick with a 1-inch barrel for the smallest diameter to avoid too-small curls. Curl hair in varying directions, both toward and away from your face, for believable Carrie Bradshaw curls. Use a 1 1/2-inch and 2-inch barrel curling iron as well -- use the biggest barrel near your face for Carrie's soft, face-framing hairstyle.
References
Tips
Get the part right -- for an oval face like Sarah Jessica Parker's, go for a center part. However, if your face is square-shaped or a center part looks too harsh, go for a just-off-center part to soften the look, suggests InStyle Magazine.
Use a 2-inch barrel curling iron all over instead of varying sizes if you're looking to created the more sophisticated, oversize curls Carrie Bradshaw sports after she gets married.
Warnings
Use caution when working with hot styling tools, such as curling irons. Try using one iron at a time, or make sure your multiple irons are resting on a heat-resistant mat to avoid damage to your counter top.
Writer Bio
Tarah Damask's writing career began in 2003 and includes experience as a fashion writer/editor for Neiman Marcus, short fiction publications in "North Texas Review," a self-published novel, band biographies, charter school curriculum and articles for various websites. Damask holds a Master of Arts in English and creative writing from the University of North Texas.
Photo Credits
Scott Barbour/Getty Images Entertainment/Getty Images