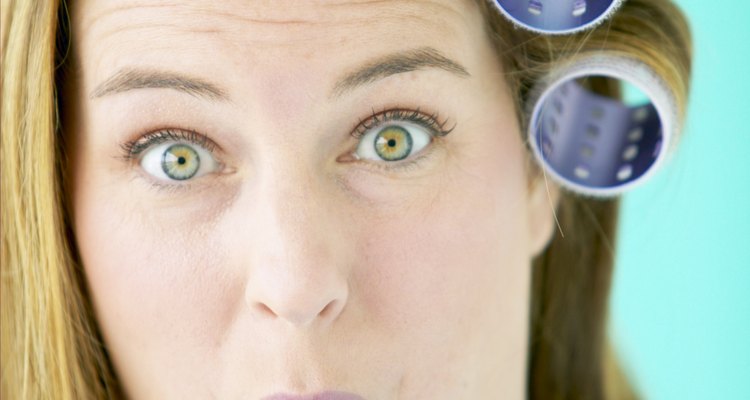 Photos.com/Photos.com/Getty Images
Rollers add volume, control and curl to your hair, whether you opt for Velcro rollers or hot rollers. While hot rollers and Velcro rollers are used in similar ways, there are distinct differences between the two. Both hot rollers and Velcro rollers work well, depending upon your hair type and the style you want.
Stuck on You
velcro rollers are rollers with the hook side of Velcro tape on the outside of the roller. The rough surface catches the hair, keeping the roller in place without the aid of clips. These rollers are available in a variety of sizes, appropriate for creating volume, wave or curl.
The Heat Is On
Like Velcro rollers, hot rollers are available in a variety of sizes. These rollers are heated by a metal core and typically have a flocked surface to help hair cling. Hot rollers are used on dry hair and can create volume, waves or curls. Leave the rollers in place until they have fully cooled.
Using Velcro Rollers
Velcro rollers are used along with a blow dryer. Dry your hair, lifting it at the roots. As you finish drying the front and sides of your hair, roll it on Velcro rollers. Blast the rollers with hot air and leave them in place while you finish drying your hair. While both small and large rollers are available, Velcro rollers are most effective for creating volume, rather than curl. If you prefer to limit the amount of heat used on your hair, Velcro rollers require little more heat than you use blow-drying.
Using Hot Rollers
Hot rollers are used on dry hair and can be used on freshly washed hair or second-day locks. Depending upon the size of the roller, you can create tight curls, loose curls, waves or volume. Hot rollers can create long-lasting curl, whether you're wearing your hair down or in an updo. Apply your favorite hair product and roll your hair on the curlers. Leave them in place until they have completely cooled. Remove, spray with hairspray and style. Hot rollers apply heat to your hair but can be used on either blow-dried or air-dried hair.
References
Writer Bio
With a master's degree in art history from the University of Missouri-Columbia, Michelle Powell-Smith has been writing professionally for more than a decade. An avid knitter and mother of four, she has written extensively on a wide variety of subjects, including education, test preparation, parenting, crafts and fashion.
Photo Credits
Photos.com/Photos.com/Getty Images