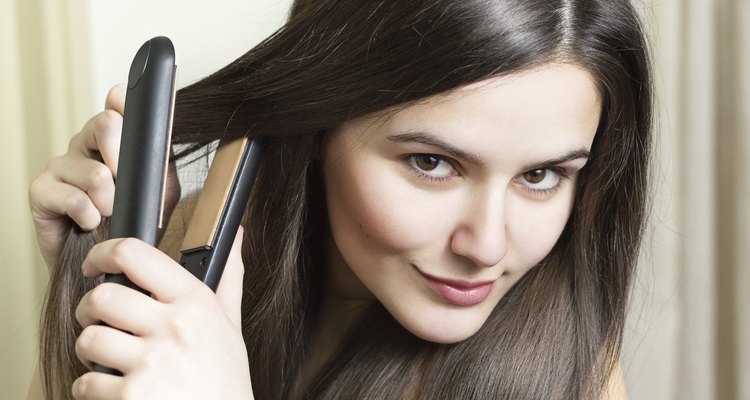 biglike/iStock/Getty Images
Straightening your hair to get the perfect texture and style may enhance your appearance, but it can wreak havoc on your delicate strands. Heated styling tools, such as a flat iron, can dry out and damage your hair. Before you straighten, take steps to protect keep your locks healthy.
Wash and condition your hair well before styling to ensure that it's in the best shape possible.
Comb a heat-protecting spray through your clean, damp hair. The spray deposits a layer of silicone onto your hair, and the silicone acts as a protective barrier between your hair and the damaging effects of the heat. As an added bonus, the spray helps lock in your style and keep your hair smooth and straight.
Turn on the flat iron to the lowest setting, and increase the temperature only if needed. Because higher temperatures cause more damage, use only as much heat as necessary to get the style you want.
References
Tips
Avoid overstyling with a hair straightener. The more you use your flat iron to get the right style, the more damage you're doing to your hair. If you find yourself using a flat iron more than three days a week, ask your stylist for a hairstyle that takes into consideration your hair's natural texture and shape, so you spend less time taming it into submission.
Writer Bio
Kay Ireland specializes in health, fitness and lifestyle topics. She is a support worker in the neonatal intensive care and antepartum units of her local hospital and recently became a certified group fitness instructor.
Photo Credits
biglike/iStock/Getty Images