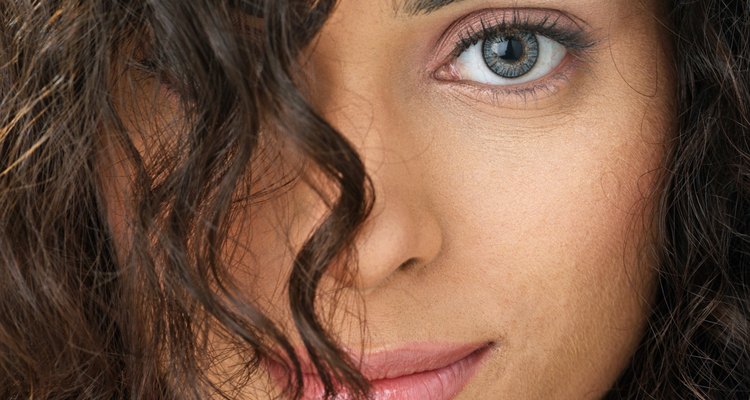 Visage/Stockbyte/Getty Images
Flyaways are a common enemy for most hair types, but especially for curly hair. With its extra volume and bounce, curly hair is particularly susceptible to frizz, flyaways and breakage. To combat these ailments, there are a number of steps you can take to keep your curls lustrous, strong and flyaway-free.
Get a trim to remove unhealthy split ends that lead to further breakage and flyaways. Depending on your hair's condition, you may need to trim more than a couple of inches. Get a trim every four to six weeks to keep split ends under control.
Wash and condition your hair every two days. Daily washing can dry out hair, causing breakage and flyaways. When you do wash, use a moisturizing shampoo and conditioner, and use cool water for the final rinse to close the hair shaft and fight snags.
Detangle wet hair with a leave-in conditioning spray. Apply sparingly around the root area and comb out tangles from the ends upward with a wide-toothed comb. Apply a smoothing serum to wet strands once tangles are removed.
Blow-dry hair on a low heat and speed setting. Dry the roots first, gently finger-combing and blowing in the direction of hair growth. Once the roots dry, attach a diffuser to your blow dryer, flip you head over and slowly push the diffuser up, collecting hair in it toward the scalp and pulling it out as you dry.
Rub a dime-size amount of styling gel or wax between your palms to get an even glaze, then run hands over the ends of your hair to coat. This will help prevent flyaways and keep hair sleek. Finish your style with a light coat of medium-hold hairspray.
Apply a warm oil treatment to your hair weekly. Warm the oil according to the directions and apply to wet hair. Wrap clear plastic wrap around your head while the oil sets to help infuse hair with the moisture-booster.
Writer Bio
Amy Davidson is a graduate from the University of Florida in Gainesville, with a bachelor's degree in journalism. She also writes for local papers around Gainesville doing articles on local events and news.
Photo Credits
Visage/Stockbyte/Getty Images