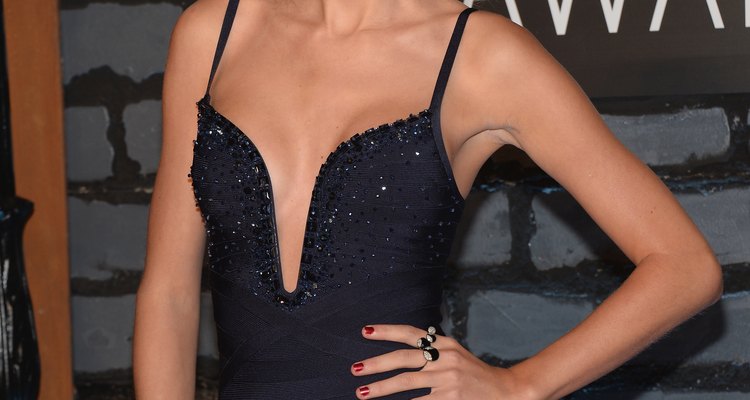 Jamie McCarthy/Getty Images Entertainment/Getty Images
If you want to create wonderfully wavy hair but don't have your favorite curling iron or hot rollers handy, there's no need to panic. In 60 minutes or less, you can add a little va-va-voom volume to your medium-length or shoulder-grazing tresses. Whether you are attending a special holiday party or prepping for a date, you can infuse a little instant glamour into your locks with a few expert hairstyling tips and tricks.
Step 1
Shampoo and condition hair with products formulated for your hair type. If you have frizzy hair, leave the conditioner on the hair for a minimum of five minutes. The conditioner will coat the hair shaft and help fight the frizz. Rinse your hair thoroughly with lukewarm water and towel-dry.
Step 2
Coat your damp strands with a volumizing mousse or styling lotion. These products will help define the curls and add texture to wet hair. Place a golf-ball blob or mousse or a quarter-size amount of styling lotion into the palm of your hands. Warm the product into your palms by rubbing your hands together two or three times. Using your fingertips, rake the product through your hair from the roots to the ends.
Step 3
Take a one-inch section of your hair. Comb the section with a rat-tail comb to distribute the product evenly from the root to the tip. Pull the section of hair taut with your hand. Roll the hair around your finger to create a small coil. Slide your finger out of the coil and secure the curl to your scalp with a small bobby pin or a duckbill clip. Repeat until you cover your head with pin curls.
Step 4
Set a hooded dryer on a medium heat setting. Dry the pin curls for 60 minutes – or until your hair and scalp feel dry to the touch.
Step 5
Remove the bobby pins or clips from your hair. To create a wavy style, use your fingertips to rake the curls from roots to ends. Mist your hair with a lightweight hairspray to keep your waves in place.
References
Tips
If you don't have a hooded dryer, wrap your head completely in a silk or rayon scarf. Let your pin curls dry overnight while you sleep.
When creating smooth and sexy waves, a volumizing mousse works best for curly hair, while a setting lotion helps to add volume to fine or straight strands.
Writer Bio
Mimi Abney is a lifestyle writer specializing in online content for women. Her work has appeared in NewsOK.com and "Keepsake Magazine," among other publications. With over 15 years of writing and editing experience for the web and print, Abney is also a contributor to online health, beauty and fashion publications. She holds a Bachelor of Science in biology from Spelman College.
Photo Credits
Jamie McCarthy/Getty Images Entertainment/Getty Images