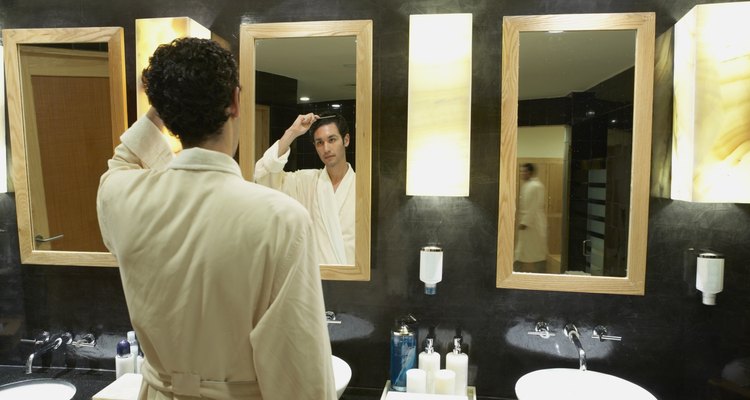 Plush Studios/Bill Reitzel/Blend Images/Getty Images
Schwarzkopf is a distributor of both consumer and professional hair care and styling products. Taft Hair Wax is a sculpting product in the Schwarzkopf line; it is used to add hold and shine to hair. The base formula includes vegetable or mineral oils that work to build a finish without being sticky. Waxing products will provide hold and texture without the stiffness associated with gels and, according to Schwarzkopf, will work for wet or dry hair.
Comb hair into the basic shape for your style. For instance, if you have short hair and normally part it in the middle, complete this process before adding the wax.
Dip fingertips into the Schwarzkopf Taft Hair Wax. Use just enough to cover the section of hair you wish to sculpt. For example, if shaping bangs, take a very small amount of wax from the container.
Rub your palms together to distribute wax to cover both hands.
Run your hands through the portion of hair you are styling to coat the strands with the Schwarzkopf Taft Hair Wax. Wax can be applied to sections or single strands. Work the product through the hair your are shaping from root to the tip.
Use your fingers to move hair into place. For example, if you are creating spikes pull waxed strands outward to form the correct shape.
Writer Bio
Writing since 1999, Darla Ferrara is an award-winning author who specializes in health, diet, fitness and computer technology. She has been published in "Mezzo Magazine" and Diet Spotlight, as well as various online magazines. Ferrara studied biology and emergency medical technology at the University of Nebraska and Southeast Community College.
Photo Credits
Plush Studios/Bill Reitzel/Blend Images/Getty Images