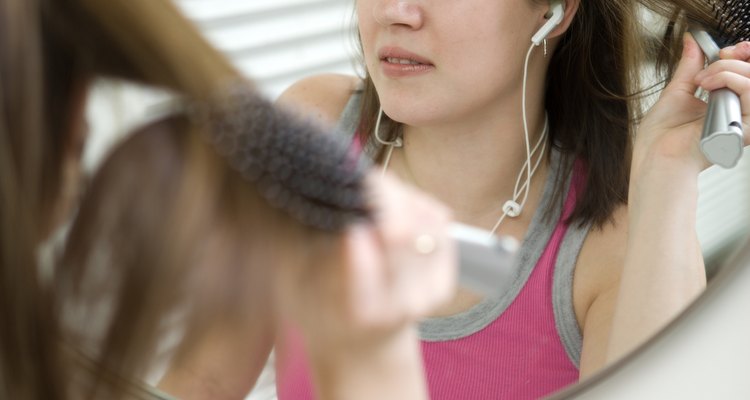 Jupiterimages/Photos.com/Getty Images
If your hair is dull, frizzy or as dry as straw, skip the store-bought conditioner and try jojoba oil instead. This oil conditions hair naturally by infusing it with moisture and nutrients. By itself, jojoba oil makes an effective conditioner, but you can mix it with other oils too. Lavender oil, for example, boosts shine and helps control dandruff. Cedarwood and rosemary oil promote hair growth by increasing scalp circulation and stimulating roots. Try a variety of combinations to find the one that works best for your tresses.
Step 1
Pour 1 to 2 1/2 tablespoons of jojoba oil into a heat-proof dish. Heat the oil in the microwave for 20 to 30 seconds or until warm. Massage the oil into your hair with your fingers. Cover your hair with a shower cap, then let the oil set for 20 minutes. Shampoo as usual.
Step 2
Combine 3 tablespoons of jojoba oil with 8 drops of bay essential oil, 7 drops of cedarwood oil and 10 drops of rosemary oil. Apply the oils to dry hair. Cover hair with a towel or shower cap. Let the oils set for up to two hours, then wash and shampoo your hair as usual.
Step 3
Mix together 1/3 cup jojoba oil, 1 tablespoon argan oil, 5 drops lavender essential oil and 5 drops rosemary essential oil. Brush your hair with a rubber-bristle brush to exfoliate your scalp. Apply the oil mixture to the dry parts of your hair. Use a comb to work the oil through your hair. Put hair up in a bun or braid. Leave the oil in for at least 15 minutes, then shampoo and rinse.
Step 4
Combine 4 tablespoons of jojoba oil with 8 tablespoons of water. Add 6 drops of peppermint essential oil. Whisk the oils together, then pour the mixture into a spray bottle. Dampen your hair, then mist strands with the oil. Leave this conditioner in as long as you'd like, or shampoo as usual.
References
Resources
Tips
Try mixing jojoba oil with other oils such as clary sage, sandalwood, coconut, almond or chamomile.
Writer Bio
Melissa King began writing in 2001. She spent three years writing for her local newspaper, "The Colt," writing editorials, news stories, product reviews and entertainment pieces. She is also the owner and operator of Howbert Freelance Writing. King holds an Associate of Arts in communications from Tarrant County College.
Photo Credits
Jupiterimages/Photos.com/Getty Images