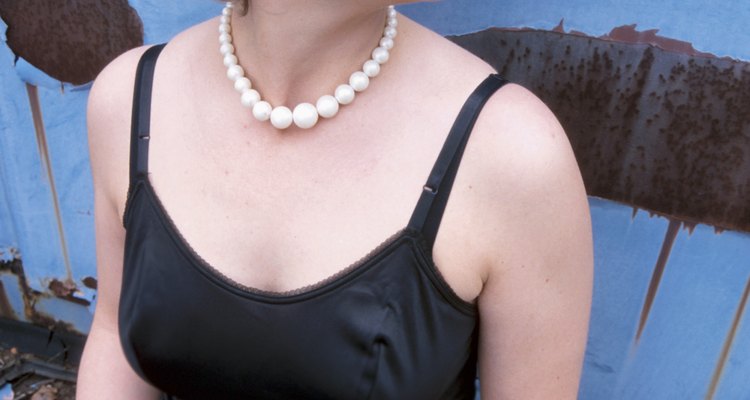 Hemera Technologies/AbleStock.com/Getty Images
You want to create voluminous, soft curls; but don't have the time to dry your hair and pull out the curling iron or hot rollers. velcro rollers are a stress-free, easy way to create the amazing volume you're after, regardless of your hair's length or texture. Rolling your hair while damp allows you to set the curls with the blow dryer, which can dramatically cut down on the time required to create date or work-ready hair every morning or evening.
Dry shampooed hair with a towel to remove any excess water before brushing out any knots or kinks with a wide-toothed comb. If your hair is messy, spray it with a light coating of detangler first.
Divide your hair into 1-inch sections. Secure each section with a small plastic clip. If you're attempting to achieve bigger, more voluminous curls, consider dividing your hair into 1 ½ to 2-inch sections, instead. Remember these require using larger Velcro rollers, as well.
Grasp and lift the first section straight above your head until your hair is taut. Cover this first section with a light misting of volumizing hairspray. Hold the Velcro roller against the tip of this first section and begin carefully rolling it toward your scalp. Once the Velcro roller is touching your scalp, give it a final spin to ensure it stays put. If your hair begins to unravel, hold the Velcro roller in place with a bobby pin.
Repeat misting and rolling each section until you're entire head is covered with the Velcro rollers. Once your hair is completely set, mist it with a final coating of volumizing product. Blow dry your hair on a medium to high setting for 5 to 10 minutes. If your hair is coarse, long or thick, it might take longer to completely dry.
Remove any bobby pins before unrolling each curl in any order. Once every roller is removed, turn your head upside down and run your fingers carefully through the curls. Apply a final layer of volumzinig hairspray, paying attention to concentrate some of the spray on your roots. Flip your head, shake your hair and walk out the door.
References
Tips
Use caution when removing the Velcro rollers from your hair. Take your time and avoid twisting or pulling at the rollers, which can cause tangles or breakage.
Writer Bio
Residing in Chippewa Falls, Wis., Jaimie Zinski has been writing since 2009. Specializing in pop culture, film and television, her work appears on Star Reviews and various other websites. Zinski is pursuing a Bachelor of Arts in history at the University of Wisconsin.
Photo Credits
Hemera Technologies/AbleStock.com/Getty Images