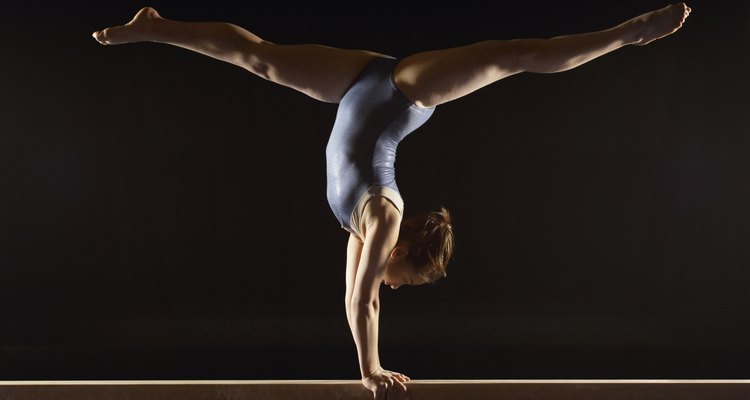 Mike Watson Images/moodboard/Getty Images
Whether you dream of going for the gold at the next Olympic games or are just helping your niece or daughter with her hair for the next meet, a gymnast's hair looks best when it is fixed and forgotten. No gymnast wants to have hair falling in her eyes or a ponytail under her hand. These styles, however, are the simple solution to achieve smooth and sleek gymnast hair.
Beautiful Braids
For long hair, a French braid looks smart and keeps strands out of the way. Make sure you always prep the hair with a firm-hold gel first and finish with a firm-hold hairspray when styling is complete. For medium-length hair, you can make a middle part and style a French braid on each side. For short hair, try French-braiding just the crown, securing the end of the braid with a snug clip or barrette.
Polished Ponytails
Ponytails work on any-length hair, even short. If your hair is very long, secure the ponytail high on the crown of the head, and if necessary, make individual curls in the tail to shorten the hair and keep it out of the way. For medium-length hair, secure your pony tail an inch or two above the nape of the neck. If you have super short hair, use small, colorful rubber bands to section small pieces of hair into mini-ponies. You can then secure each end to another section, creating a uniform look. This style is sometimes referred to as "the pineapple."
A Chic Chignon
This sophisticated style is best for medium to long hair. As always, prep hair with a firm-hold gel and finish with a firm-hold hairspray. Smooth hair away from the face into a sleek ponytail, then twist it around in a circle and secure it with hair pins. For competition, cover the bun with a fabric-covered elastic or ribbon to match your uniform.
Pretty Pigtails
This look works best for medium to short hair. Part your hair in the middle and create a braid or pony tail that rests just behind each ear. Prep hair with gel and finish it with hairspray. If you have bangs, secure stray strands with small hair clips.
References
"Cozy's Complete Guide to Girls' Hair" ; Cozy Friedman
Writer Bio
Kathleen Gasior has over five years of experience as an editor, reporter and columnist for a chain of weekly newspapers in Northern New Jersey including the "Warren Reporter," "Phillipsburg Free Press" and "Belvidere News." She has been writing for over 30 years. Gasior has a Bachelor of Social Work from Monmouth University and over 25 years field experience. Gasior is also trained in cosmetology.
Photo Credits
Mike Watson Images/moodboard/Getty Images