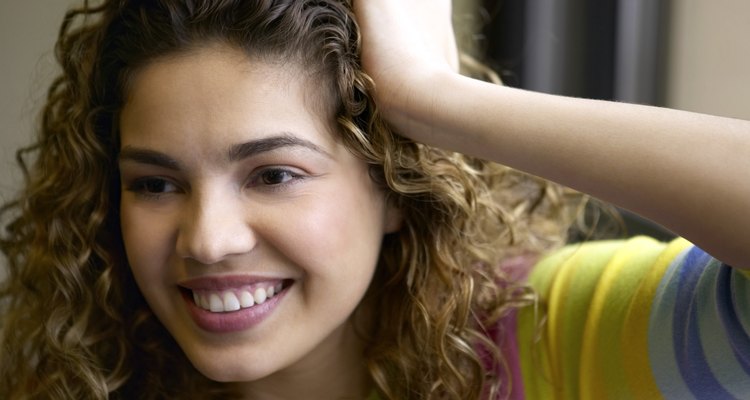 Creatas/Creatas/Getty Images
Whether you got a perm to try and relax spring curls or you wanted to add body to straight hair, you're now good and ready to let it fall. Unless you go the opposite direction and get your hair chemically straightened, you're set to play the waiting game until you cut off the last strands of your perm. But don't let growing your perm out be a hair-raising experience. There are some easy, relevant hairstyles that you can create while your perm lingers. So sit back and relax -- work with the texture that's yours and create some fun styles in the meantime.
Pack a Punch With a Pony
One of the easiest ways to get out the door in a flash is to pull your once-permed tresses into a low or high ponytail. If you want a sleek look, add some straightening balm to your hair before blow-drying with a round, soft-bristle brush. Pull hair to the nape and secure with a cute elastic tie featuring a plastic accessory or a little bow. If you want to keep your perm's pulse for the day, go for a full, sexy ponytail. Spritz some curl-defining product onto wet hair and dry with a diffuser. Next, pull your hair up and back, and secure with an elastic hair tie right at the crown.
Catch the Wave
Remember, your perm is growing out, but it's not dead. Revitalize it a bit with some curl-enhancing products and your fingers or a curling iron. Wear your hair completely down, give it a deep part and then add some beautiful hair accessories to the mix. Or twist and wind 1/4-inch sections to your scalp; fasten with bobby pins and spray hairspray on your entire head before bed. Release the pins in the morning and your perm will have the kick it needs for a wavy, lively look. Add a bandanna, jeweled headbands, rhinestone pins or any other accessory to this feminine style.
Bring on Some Braids
Conceal your once-permed hair by simply using braids. There are a plethora of braid styles that work well with permed hair -- everything goes, from the casual, side braid to mini braids around your entire head. Long hair looks great pulled to the side and loosely braided or fishtailed. For an even more sultry look, use your fingers to loosen between the braids or tail. Shorter hair can be braided in sections around the entire head and worn au naturel or pulled back into a bun or ponytail. Or give French braids a grown-up twist by securing them into an updo.
Fake It With Hairpieces
You can pretend you're not growing anything out if you fake it with a weave or hair extensions. Simply visit your local beauty supply and discover ponytail add-ons or hair clip-ons. The key to getting this to look right is to ask for help when matching your hair color to the accessory. Simply place the comb into your hair above your own ponytail and then tousle the fake and real hair together. Or visit a salon for a professional weave or hair extensions that can blend in with your perm or mask it altogether. Depending on your hair and how you care for it, weaves and extension can last anywhere from one to four months.
References
Writer Bio
Based in Los Angeles, Lisa Finn has been writing professionally for 20 years. Her print and online articles appear in magazines and websites such as "Spa Magazine," "L.A. Parent," "Business," the Famous Footwear blog and many others. She also ghostwrites for mompreneurs and business owners who appear regularly on shows such as Ricki Lake, HGTV, Carson Daly and The Today Show.
Photo Credits
Creatas/Creatas/Getty Images