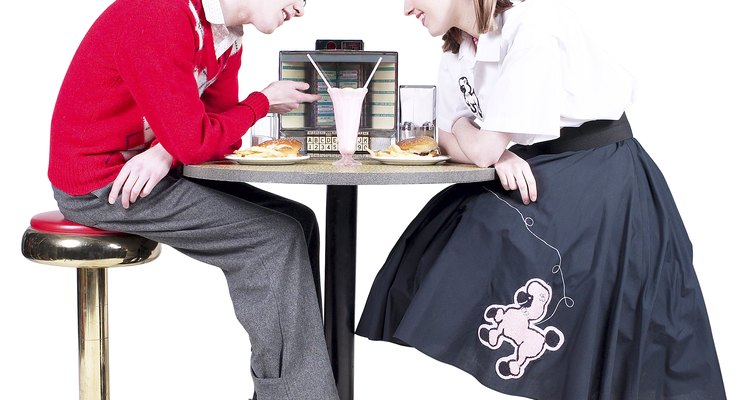 Hemera Technologies/PhotoObjects.net/Getty Images
If you're bopping on down to a sock hop, finding the right 1950s style can make or break your costume. Dressing for a '50s-themed event allows you to get creative while looking like a blast from the past. You can go the preppy route and stick to puffy poodle skirts and ponytails or you can try out an edgier leather-clad style.
Women's Preppy Dress
The good girls and boys of the 1950s typically stuck to preppy, clean-cut fashions. Dress up your sock-hop style with a full poodle skirt. Choose a below-the-knee length full skirt that has some swing to it. Avoid anything that is tight or short in length. As it's unlikely that you will find a skirt that comes with the trademark '50s poodle, you will need to create your own embellishment. Iron on a ready-made decal or create your own doggy design using fabric markers and a poodle-shaped stencil. Pair your skirt with a solid-colored button-down blouse and roll up the sleeves. Complete the look with a high ponytail at the crown of your head, a pair of saddle shoes and minimal or natural-looking makeup.
Men's Preppy Ideas
Channel Frankie Avalon or one of the other more clean-cut men of the '50s by wearing a preppy style to your sock-hop event. Start with a basic pair of chinos or khaki pants, and pair them with a solid button-down and a plaid cardigan. Add a letterman's jacket for a preppy, sporty style. When choosing colors, go for 1950s pastels and consider wearing a pink shirt or adding a pink tie to the mix. Create a clean-cut hairstyle by smoothing your hair into a plain side part.
Women's Edgy Style
Just like Sandy transformed from sweet Sandra Dee to a leather-wearing bad girl in the movie "Grease," you can try on a tough, chic look for the big sock hop. Instead of a swinging skirt, opt for a tight pencil version or a pair of snug-fitting black capris. Add a tight-fitting sweater and a black leather or faux leather jacket. Accessorize your style with a bold chiffon scarf tied around your neck, cherry red lipstick and teased hair.
Men's Edgy Style
Using Fonzie of "Happy Days" fame as your sock-hop inspiration is a cool option for men. Wear a basic pair of jeans; stick with a medium blue and avoid anything that looks overly modern or has shreds and holes in it. Pair your jeans with a plain white T-shirt and either a denim or leather jacket. Add some shine to your hair with a slicked back gel style or pouf the front up into a pompadour.
References
Writer Bio
Based in Pittsburgh, Erica Loop has been writing education, child development and parenting articles since 2009. Her articles have appeared in "Pittsburgh Parent Magazine" and the website PBS Parents. She has a Master of Science in applied developmental psychology from the University of Pittsburgh's School of Education.
Photo Credits
Hemera Technologies/PhotoObjects.net/Getty Images