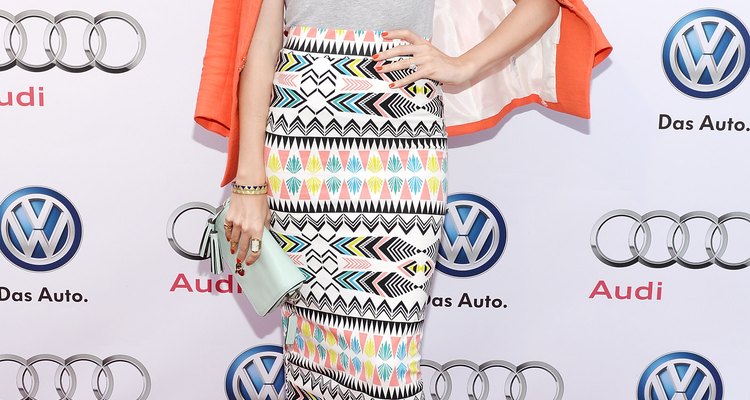 Andrew H. Walker/Getty Images Entertainment/Getty Images
A gray blouse may not seem like the most exciting item in your closet, but its versatility can definitely make it a superstar of your wardrobe. Gray is a neutral shade that can work with virtually any other color, and such a blouse can be easily dressed up or down depending on the setting. If you're unsure what pants to wear with your gray blouse, keep an open mind -- it can probably work with most of the styles you already own.
Go Neutral
When you're wearing your gray blouse to the office or another professional setting, trousers are the ideal pants to pair with them. Depending on your body type, you can choose from a classic straight-leg style or opt for a chic wide-leg cut. Gray is a neutral shade so it works with any color, but choosing trousers in another neutral shade offers an understated, streamlined look. Black trousers provide the most traditional statement; but if you want to make your frame look longer and leaner, pair your blouse with pants in a similar gray shade to create a monochromatic look that elongates your body. Tucking your shirt into your trousers offers the most polished look; add a black patent-leather belt and pumps to complete the ensemble.
Keep It Casual
For a more casual look, pair your gray blouse with your favorite jeans. If you're dressing for an evening out, choose a pair of dark-wash or even black jeans to give your outfit a more dressed-up look. For a more relaxed vibe, wear your blouse with a slouchy pair of boyfriend jeans -- tuck the blouse in, add a striking belt and heels, and you'll look chic and put-together even in your dressed-down outfit. Colored jeans in shades like mint, red or cobalt can also complement a gray blouse if you prefer a bolder look.
Get Comfy
If your gray blouse is an oversized style, it may be the perfect item to pair with leggings -- the key is making sure that the shirt is long enough to cover your backside. For an easy, comfortable weekend look, throw on your blouse with black leggings and ballet flats or ankle booties. If your blouse is extremely long and loose, you can add a belt to create a shirt-dress effect with the leggings. While black leggings are a classic option, your versatile gray blouse allows you to play with color, so you can spice up your look with burgundy or plum leggings, too.
Make a Statement
A simple gray blouse presents the ideal opportunity to rock some bold statement pants or a patterned skirt. Since the top is a neutral shade, you can pair it with bottoms in nearly any color or pattern without looking too busy or clashing. Wear your blouse with a pair of vibrant trousers, like emerald or red, or try it with a fitted skirt in a graphic print. If you're headed out for the night, opt for a pair of leather pants to give your blouse a bit of an edge. You can also glam up your gray blouse by pairing it with sequined leggings for big-time shine.
References
Writer Bio
Based in New York City, Jennifer Blair has been covering all things home and garden since 2001. Her writing has appeared on BobVila.com, World Lifestyle, and House Logic. Blair holds a Bachelor of Arts in Writing Seminars from the Johns Hopkins University in Baltimore, Maryland.
Photo Credits
Andrew H. Walker/Getty Images Entertainment/Getty Images