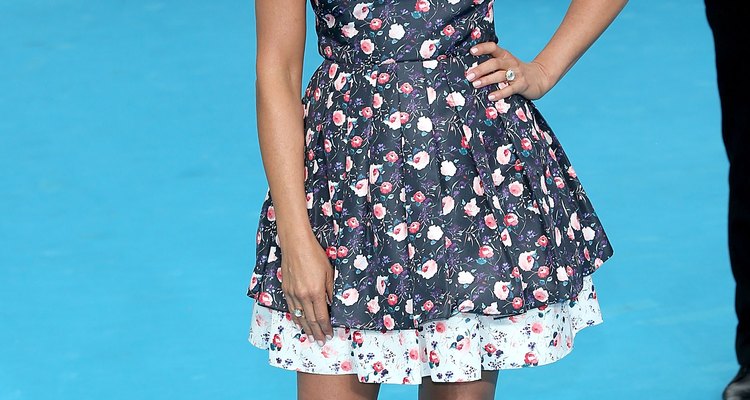 Tim P. Whitby/Getty Images Entertainment/Getty Images
College commencement ceremonies are special events so graduation guests should sport chic garments. Whether you're a proud parent, sibling or family friend, dressing appropriately means looking polished and put together for this occasion. Opt for an ensemble that's smart, stylish and comfortable so you look and feel your best while attending a college graduation.
Dresses
Female attendees should look no further than a classic dress when grappling with what to wear to a college graduation. There are many styles of dresses that are fabulous for these types of events, including A-line dresses, peplums, printed dresses and solid-colored sheaths. As long as the dress hits at an appropriate length and is of modest cut, your ensemble should suffice. For extra style points, pair your dress with sassy heels in a fun, bright color or an elegant, neutral hue.
Slacks
Slacks are an appropriate choice for men and women. With their versatile capabilities and dressy presentation, slacks pair fabulously with anything from printed floral blouses to professional-looking sport coats. A polo shirt with slacks is an acceptable pairing for men, while chic, feminine blouses pair well for women. For a stylish and trendy spin, opt for slacks in a vivid hue and pair with a neutral top.
Button-downs
A crisp button-down is a great choice for men and women attending a college graduation. Whether paired with denim, khakis or dressy trousers, a button-down portrays a professional look -- even more so when paired with a neck tie. To appear perfectly appropriate, women can dress in a white button-down, black slacks and sleek, pointy-toed pumps. An eye-catching statement necklace will complete this ensemble perfectly. However, when going with a blouse that's bold and bright, it's best to keep other aspects of the outfit more tame.
Blazers
Sophisticated blazers are a fast way to class up a basic ensemble. A well-fitted blazer instantly jazzes up a wide variety of garments from plain and simple dresses to a sleek T-shirts. Women can top their outfit off with costume jewelry for an extra dose of flair. If casual attire is preferred, jeans can also be made appropriate for the occasion with the addition of a classic blazer.
References
Resources
Writer Bio
Sara Cantu has been writing fashion and lifestyle articles since 2009. As a fashion stylist, writer and blogger, she has been published in "Lady Couture" magazine and "RGV" magazine. She holds a Bachelor of Arts in journalism from The University of Texas - Pan American.
Photo Credits
Tim P. Whitby/Getty Images Entertainment/Getty Images