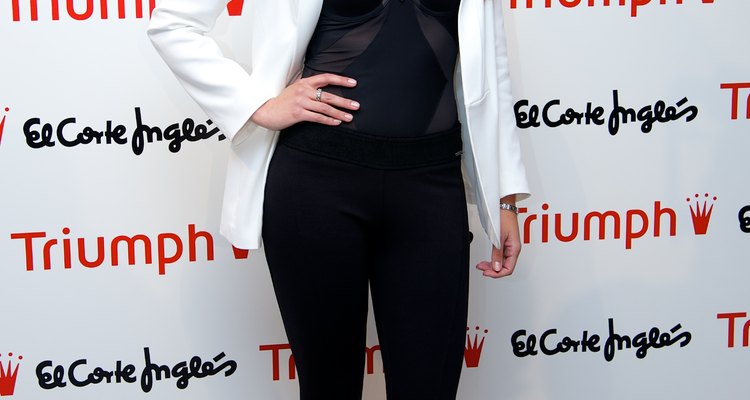 Carlos Alvarez/Getty Images Entertainment/Getty Images
Corsets are a notoriously sexy item and while they can be chic and fashionable, they aren't usually appropriate for school settings. However, with a few simple tweaks, they can be made perfectly acceptable for school fashion. The key to dressing up a corset lies in covering up. Whether it's by jacket, blazer or vest, choose a layered look to perfectly complement a corset, making it a trendy option for school time style.
Blazers
The quickest way to tone down the sexy vibe of a corset is to cover up with a sophisticated blazer. Trendy and stylish, a blazer adds an instant bit of chic to more sultry ensembles, making it the perfect pairing for a tight-fitting corset. Opt for a black, white or nude blazer if your corset is bold and bright. If it comes in a neutral hue, spruce it up with a pop-of-color blazer like cobalt, fuchsia or orange. Slouchy, menswear-inspired blazers are another great way to add a dose of style to a corset. A pair of sky-high heels will complete this outfit that is the perfect combination of cute and sexy.
Cardigans
A cardigan is an adorable way to cover up the severity of a corset. Your best bet for adding some frill to such a sultry piece, a cardigan will put a classy spin on the entire look. Ballet flats are a cute and stylish way to keep this outfit casual. Try adding a statement necklace for a pop of pizazz. This combination works with jeans just as well as it does with a sleek and chic pencil skirt. When rocking a pencil skirt, a patterned pair of stockings perfectly seals the deal.
Vests
Depending on the style of your corset, a vest might be just the ticket to a casual and trendy ensemble. A denim vest adds an automatic cool-girl factor, while a vest in a sophisticated fabric, such as velvet, adds instant elegance. If your corset is printed, choose a solid-colored vest and metallic jewelry for an updated take on this easy outfit.
Leather Jackets
Few garments add as much edge as a leather jacket, which might just be the perfect pairing for your corset. For casual days, sport this look with jeans and boots or wedges. For other events where dressier attire is encouraged, tuck your corset into a flouncy skirt and top with a leather jacket for an incredibly chic, girlie-meets-tough combination. Fashion-forward gals may want to tuck their corset into a flowy maxi skirt and top with a leather jacket for an edgy take on bohemian chic.
References
Writer Bio
Sara Cantu has been writing fashion and lifestyle articles since 2009. As a fashion stylist, writer and blogger, she has been published in "Lady Couture" magazine and "RGV" magazine. She holds a Bachelor of Arts in journalism from The University of Texas - Pan American.
Photo Credits
Carlos Alvarez/Getty Images Entertainment/Getty Images