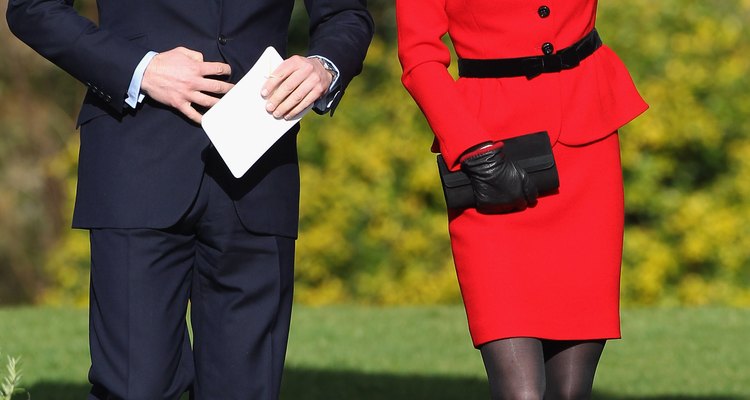 Jeff J Mitchell/Getty Images News/Getty Images
There's something undeniably sexy about a pair of knee-high boots. But it's not just about looks -- knee boots can be very practical in cold weather, providing extra coverage for your legs. Choosing the appropriate bottoms to go with the boots is an important step, but you want to make sure that your entire outfit is balanced by finding the proper proportions. If you pair your knee boots with the right clothing, though, you'll have a chic, stylish look that works all fall and winter.
Go Skinny
Knee-high boots can look stylish with pants tucked into them, but you don't want to pair them with styles that bunch and bulge around the top of the boots. Skinny jeans are an ideal casual option with knee boots since they fit neatly inside the top of a boot. You can pair jeans and knee boots with a loose-fitting top like a tunic or boyfriend-style sweater for an understated weekend look, or wear the boots and jeans with a camisole and fitted blazer combination for an evening out. Flat equestrian-style boots and chunky high-heel styles both work well when pairing with jeans.
Go Relaxed
For a low-key outfit, flat knee boots are a better option than a heeled style. Flat boots pair especially well with leggings since they both have a relaxed, comfortable look. Wear the boots and leggings with a long button-down blouse --belt it to create a more flattering fit. You can also pair your boots and leggings with an oversized sweater or sweatshirt. Even a simple tank top and boyfriend cardigan can work well for a laid-back vibe with your boots.
Go Polished
When you want to give your knee boots a work-appropriate, polished appearance, pair them with a fitted pencil skirt. Getting the length right is key, though -- the skirt should end just above the knees so there's a slight gap between it and the top of the boots. At the office, pair black knee-high boots with a mid to high heel with a black or pinstriped pencil skirt and tuck in a silky button-down blouse. To tie the ensemble together, add a belt that matches the material of your boots. You can also opt for a casual look with knee boots and a pencil skirt by choosing a corduroy or denim fabric. For a no-fuss outfit, with a simple sheath or shift dress.
Go Flirty
A fitted skirt isn't your only option when you want to dress up your knee boots. An A-line skirt also works well with boots; many times this style is more flattering than a fitted skirt if you're bottom heavy, as it skims over larger hips and thighs. As with a pencil style, make sure your A-line skirt ends just above the knees so there's a gap between the hemline and the top of the knee boots. Pair your skirt and boots with a fitted cardigan and tank top or swap the cardigan for a blazer for a more professional vibe. If you're planning a casual outfit, pair the A-line skirt and boots with a T-shirt and loop a scarf around your neck for a little color or texture.
References
Writer Bio
Based in New York City, Jennifer Blair has been covering all things home and garden since 2001. Her writing has appeared on BobVila.com, World Lifestyle, and House Logic. Blair holds a Bachelor of Arts in Writing Seminars from the Johns Hopkins University in Baltimore, Maryland.
Photo Credits
Jeff J Mitchell/Getty Images News/Getty Images