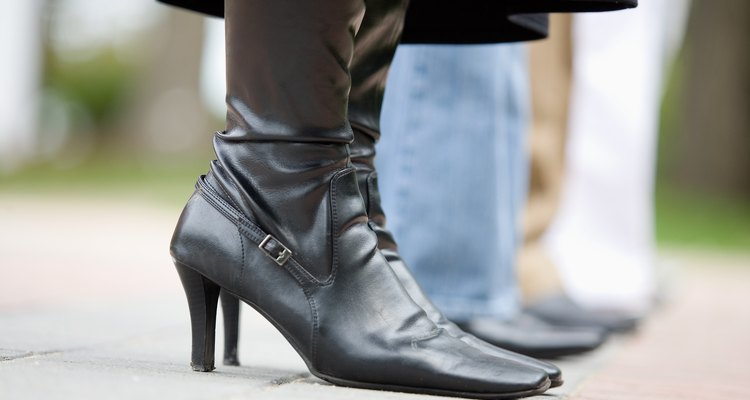 Jupiterimages/Photos.com/Getty Images
If you're lucky enough to have found well-fitting, plus-size knee boots, pairing them with the right outfit can keep you looking chic and stylish from fall through early spring. Knee boots come in a variety of styles, from chunky casual boots to dressed-up professional heeled styles. Visit your closet to create outfits to pair with boots from garments you probably already own.
Keep It Casual
Pair a casual knee boot, like a wedge or even a chunky rubber-soled boot, with skinny jeans for an easy-to-wear style. While skinny jeans can be harder for some curvy girls to wear, the boots add visual weight to balance your curves. Pair your jeans and boots with a fitted blazer if you're an hourglass shape or a longer, looser tunic if you'd rather hide your tummy. If you opt for dark jeans and a slightly dressier boot, this look can go to the office on casual Friday.
A Simple Skirt
Knee-high boots pair well with either an above-the-knee skirt or one that covers the top of the boot. Save the knee-length skirts for a shorter boot. Wear a full or A-line skirt or dress with your knee boots. Pair the boots with tights the same color as the skirt or boots if you're feeling shy, or go bold with bright, contrasting tights. Choose a fitted top to pair with a full skirt if you have an hourglass shape or a pear-shaped figure. Replace the skirt and top with an empire-waisted dress for a flattering look on a rounder figure. If you have casual, chunky boots, try wearing them with a lighter, bohemian-style skirt for a whimsical contrast.
All Dressed Up
Many pairs of knee boots are acceptable office attire, even for a more professional setting. Wear knee boots with dresses, suits or skirts; however, skip the boots if you're wearing a snug pencil skirt. Looser straight styles work with a snug-fitting boot. Choose a boot with a small heel and avoid lace-ups for a professional look. If you prefer a flat, a classic equestrian boot pairs well with pants.
High Heels
High-heeled boots are a sexy choice for an evening out and are more versatile than you might expect. You can pair high-heeled boots with a shorter skirt, skinny jeans or leggings. Worn with a flattering tunic-style top cut for your body, a pair of boots and skinny jeans or leggings will suit many different curvy figures. Very high heels may be too much for the office or a more conservative evening out. If you want to wear high-heeled boots for a more conservative occasion or you're not comfortable in skinny jeans or leggings, pair them with a modest dress or skirt and top, with a hem not far above the knee.
References
Writer Bio
With a master's degree in art history from the University of Missouri-Columbia, Michelle Powell-Smith has been writing professionally for more than a decade. An avid knitter and mother of four, she has written extensively on a wide variety of subjects, including education, test preparation, parenting, crafts and fashion.
Photo Credits
Jupiterimages/Photos.com/Getty Images