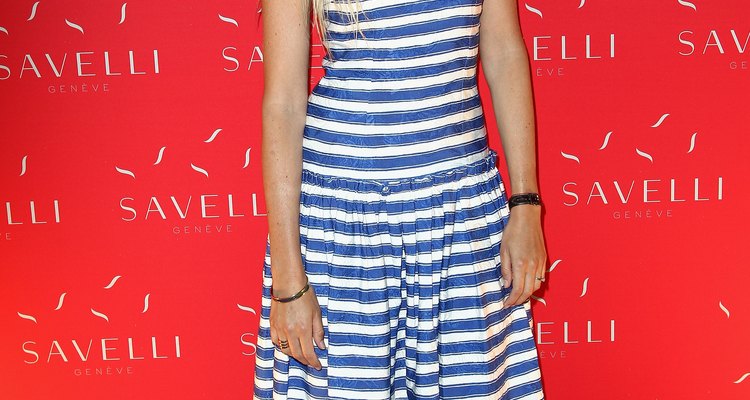 Julien M. Hekimian/Getty Images Entertainment/Getty Images
The easy, nautical-inspired style of a navy-and-white sundress is a quintessential summer look. Once you've nabbed this cute and casual frock, your attention turns to picking just the right footwear. Options are plentiful, ranging from high-heeled wedges to flat sandals in an array of eye-catching hues; this makes landing on your perfect pair nothing short of smooth sailing.
Pick a Style, Any Style
Various styles of sundresses call for different shoes, but a few basic rules apply. Because sundresses are generally casual in nature -- with lightweight, breathable fabric in arm-bearing styles -- your best bets are wedges, ballet flats, gladiator or T-strap sandals or slip-on canvas sneakers. A dressier navy-and-white maxi dress pairs well with wedges or intricate gladiators, while a T-shirt fabric calls for a simple flip-flop if you're heading to the beach. Shorter frocks with a bit of a flare look cute with ballet flats or sneakers. Wedges with a medium-length dress help to elongate your legs, while flat sandals and heels both set off maxi dresses.
On Neutral Territory
Since your dress is a neutral (white) and a near-neutral (navy), opting for neutral footwear is a no-brainer. Pick a nude, tan or beige strappy wedge or sandal for a clean, streamlined look. Or go sporty with white or gray canvas sneakers. Another solid choice is a black ballet flat; contrary to conventional style rules, black and navy can and do go together. The trick is making sure there is enough differentiation between the navy hue and your black shoe.
Color It Bold
Use your navy-and-white sundress as a canvas to highlight a bold color. Red is arguably the most obvious choice -- a bright red wedge, ballet flat or even a peep-toe pump has a decidedly summer feel and statement-making prowess. You can also choose a vivid yellow, hot pink or bold orange sandal or heel if you find the perfect pair -- orange is a complementary color to blue and nicely contrasts with navy and white.
Go Glam With Metallics
To dress up your navy-and-white sundress, reach for a metallic shoe. Brushed gold, silver, pewter or bronze all look striking with this color combination. This look works especially well if your frock has a dressier cut or fabric, but the vibe can stay casual if you choose a simple metallic T-strap sandal or flip flops. Accent the ensemble with metallic jewelry -- think a gold pendant or armful of silver bangles -- for a resort-ready look.
References
Writer Bio
Stacey Kole was managing editor of the International fashion and beauty publication Savvy where she penned stories on all things beauty and style, while writing cover stories on such celebrities as Victoria Hudgens and Julianne Hough. She continues to write for a variety of online fashion, beauty and health publications.
Photo Credits
Julien M. Hekimian/Getty Images Entertainment/Getty Images