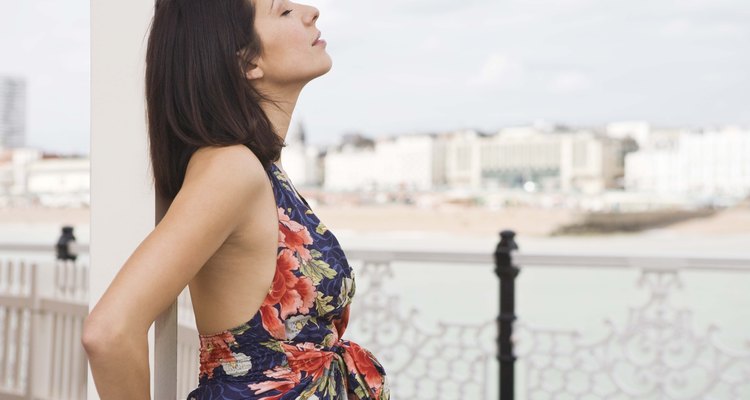 Jupiterimages/Goodshoot/Getty Images
Floral dresses are fun, girly and perfect for spring. Because floral is a print, picking the perfect pair of shoes to finish off the look might seem tough -- but it doesn't have to be. There are plenty of shoes that can make your floral look complete; in fact, you probably have a few in your closet already.
Go Nude
Take the guesswork out of matching and simply stick to a nude or tan shoe. Nude is a neutral shade which means that it works with every other color, making it's pairing with your floral dress a no-brainer. Even better, nude shoes create the illusion of longer legs which will instantly slim your silhouette and make you appear taller.
Shading
Floral dresses come in different colors and prints. Look at your floral dress and find the color that pops out the most. Then, go get yourself a cute wedge or high-heeled pump in that specific shade. Wearing a shoe in one of the hues found on your dress is the perfect way to tie your look together.
Accent Color
There's no rule that says your look has to perfectly match. Instead of opting for a shade within your dress, find a shoe in a color that complements it instead. Brightly colored shoes are daring, fashion-forward and the perfect addition to a floral dress look, so don't be scared to experiment. For example, a tangerine and white floral dress looks fun and flirty with a pair of aqua-green sandals. If bright isn't your thing, opt for a shoe in a complementary pastel instead.
Black
Black is a fantastic way to take your floral dress from spring to fall. This look works even better if you have a floral dress in a deeper shade. If black is too drastic for you, other deep shades work as well. Try charcoal, for instance. Make your floral look more fall-ready by adding a pair of tights, a cardigan or a denim jacket to finish things off.
References
Writer Bio
Pamela Simmons has been writing professionally since 2009. Her articles on fashion, beauty and other topics have appeared on Denim Therapy and other websites. Simmons serves as an editor and public relations manager for CHIC.TV. She holds a Bachelor of Science in international affairs from Georgia Tech and a Master of Business Administration from Mercer University.
Photo Credits
Jupiterimages/Goodshoot/Getty Images