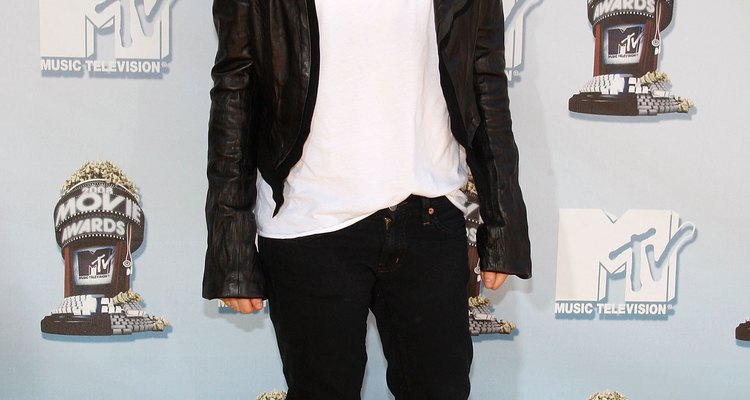 Frazer Harrison/Getty Images Entertainment/Getty Images
Because the leather jacket is tough and edgy, you might be tempted to dress it up a bit. Sometimes a girl just has to embrace a little edginess and go all the way. Sneakers are a perfect way to snag this style. Not only will your ensemble look cute and fashionable, it'll also be super comfortable. Is there really a better combination?
How to Wear It
If you're looking to go chic, pair your leather jacket with a pair of fashion sneakers. Fashion sneakers are incredibly trendy, so you should be able to find them in lots of different styles and colors. If you're not sure what high fashion sneakers are, think about any style that you wouldn't wear to work out, and you've got it right.
Where to Wear It
Since you're pairing your leather jacket with sneakers, make sure to wear yours in more casual settings. This doesn't mean you have to reserve the look for picnics or running to the grocery store. Since the look is stylish, it works in other places. Wear yours to casual parties and events. Steer clear of more dressy forums like the office.
Styling the Look
Because you're wearing fashion sneakers with this look, you can style them in a bunch of different ways. The most simple of these would be a pair of jeans and a basic T-shirt. Add a demure necklace, earrings or rings, and you're all set. The look can also work with dresses. Try yours with fabrics like cotton and opt for more casual frocks.
Other Options
If jeans and dresses aren't your thing, try leggings. Leggings are incredibly comfortable and work perfectly with leather and sneakers. Just make sure you pair your leggings with a tunic or top that is long enough to cover your backside. Wear this look exactly like you'd wear your denim look. If you want to make your look more fun, try colored leggings, or get more daring by opting for a colored leather jacket or colored sneakers.
References
Writer Bio
Pamela Simmons has been writing professionally since 2009. Her articles on fashion, beauty and other topics have appeared on Denim Therapy and other websites. Simmons serves as an editor and public relations manager for CHIC.TV. She holds a Bachelor of Science in international affairs from Georgia Tech and a Master of Business Administration from Mercer University.
Photo Credits
Frazer Harrison/Getty Images Entertainment/Getty Images