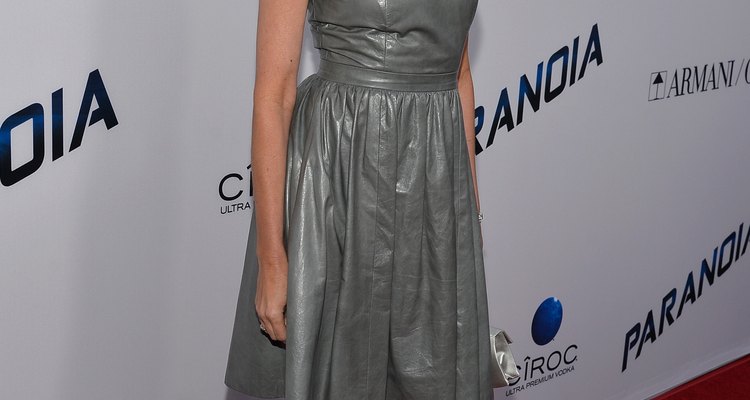 Frazer Harrison/Getty Images Entertainment/Getty Images
Heather gray is a soft and delicate shade that works well with several colors. Because gray is considered a neutral, it works with nearly every shade, affording you a great deal of style options. Whether you prefer a subtle, conservative look or you want something a bit more fashion-forward, sporting your heather gray pieces will be a breeze.
Neutrals
Heather gray pairs well with other neutral shades. If you'd like to keep your look simple and understated, try your heather gray piece with shades of nude or tan. If you'd rather have more of a color contrast, while staying in the same general color family, wear your heather gray with black. Or, mix tan, black and gray for a stunning color-blocked look. A heather gray sweater, worn with a tan pant and black shoe works well.
Brights
Use your heather gray to tone down bright shades. Any bright shade you like will do, so wear yours with in-your-face neon shades or with summery brights like lemon, tangerine, aqua or fuchsia. If super bright shades aren't for you, pair your gray with richer tones like plum, navy and cranberry.
Gray
Sport a monochromatic look by wearing your heather gray with other gray pieces. Go head-to-toe in the same shade for a clean and polished look, that's especially appropriate for the office or a meeting. You don't have to have all the same shade of gray to pull off the monochromatic look; instead, wear your heather gray piece with other pieces in different gray hues like charcoal. Make your outfit more interesting by breaking it up with one brightly-colored piece -- a colored shoe, belt or bag will do the trick.
Prints
Try wearing your prints with a piece in solid heather gray. A simple print like a stripe or polka dot looks subtle and chic. Loud, graphic patterns work well too, so if you're feeling a bit more daring, pair your gray with an animal print. Or, create an ensemble with a feminine pattern, like a pastel floral skirt and a heather gray tank or tee.
References
Writer Bio
Pamela Simmons has been writing professionally since 2009. Her articles on fashion, beauty and other topics have appeared on Denim Therapy and other websites. Simmons serves as an editor and public relations manager for CHIC.TV. She holds a Bachelor of Science in international affairs from Georgia Tech and a Master of Business Administration from Mercer University.
Photo Credits
Frazer Harrison/Getty Images Entertainment/Getty Images