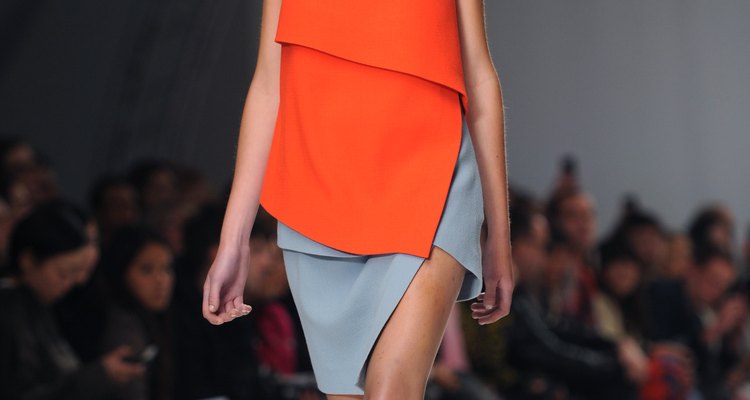 Stuart C. Wilson/Getty Images Entertainment/Getty Images
Gray clothing can sometimes get a bad rap for being boring and sedate, but it's really one of the most versatile options in your closet. This neutral shade can easily be dressed up or down, while serving as a welcome alternative to typical black or white. Whether you prefer a sleek, modern look or bold drama in your wardrobe, there are plenty of colors to pair with your favorite gray items so they appear anything but drab.
Modern Neutrals
For a chic, modern look, pair your gray clothing with other items in neutral colors. Gray and black is a particularly sophisticated option, so try wearing gray trousers with a black button-down blouse or V-neck sweater for the office. For a casual vibe, a gray tank top or T-shirt can work well with black jeans or shorts. White clothing can also complement gray pieces -- wear a silky white blouse with your gray pencil skirt or a white tunic top with gray skinny jeans. Gray can even work with certain shades of brown -- don a gray shift dress with a cognac leather jacket or pair a dove-gray cropped top with high-waisted tan shorts.
Soft Pastels
In the spring and summer, make your gray pieces look a little livelier by pairing them with clothing in fresh pastel shades. Wear your favorite light gray suit to the office with a mint-green shell under it or rock a gray blouse with a flirty lilac skirt. For the weekend, try a basic gray tee with a pair of aqua shorts. Pastel yellow mixes especially well with soft gray, so slip on a butter yellow V-neck sweater with gray trousers or a pale yellow cardigan over a dove-gray sheath dress.
Rich Jewel Tones
When you're wearing charcoal gray pieces, richer shades are often a better option, so reach for jewel tones to pair with gray clothing during the fall and winter months. Wear a charcoal pencil skirt with a sapphire blouse or emerald sweater for a professional look, or a fitted dark gray blazer over an embellished amethyst tank and your favorite dark-wash jeans. If you're headed to a cocktail party, try a striking ruby-red wrap or shawl over a charcoal strapless dress.
Bold and Bright
Since it's an understated neutral, gray clothing is an ideal option when you want to tone down bold colors in your wardrobe. If your bright red wrap dress feels a little too loud, slip on a gray blazer or cardigan over it. When you want your vivid orange tunic to be the star of your outfit, pair it with simple gray leggings or skinny jeans. Gray trousers can also help counter a bold lime green or electric pink blouse when you want to wear some color but need to look professional and polished.
References
Writer Bio
Based in New York City, Jennifer Blair has been covering all things home and garden since 2001. Her writing has appeared on BobVila.com, World Lifestyle, and House Logic. Blair holds a Bachelor of Arts in Writing Seminars from the Johns Hopkins University in Baltimore, Maryland.
Photo Credits
Stuart C. Wilson/Getty Images Entertainment/Getty Images