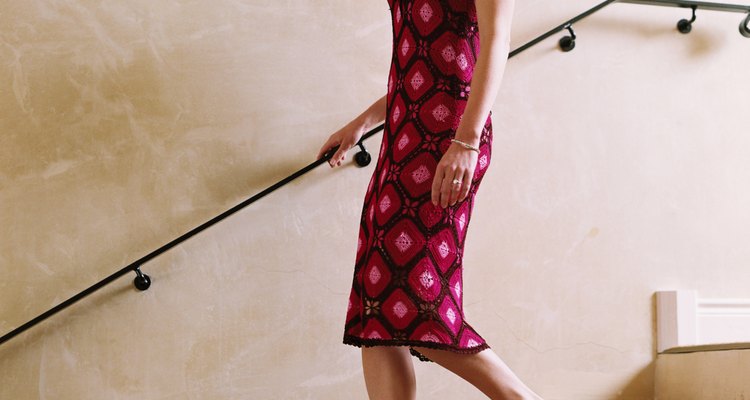 Stockbyte/Stockbyte/Getty Images
The benefits of heels are numerous. They definitely add polish and sex appeal to an outfit, and can also help you look taller and thinner. While black heels are a classic option, having a brown pair in your closet presents an attractive alternative, since they can provide a softer, more relaxed look than black. If you're not sure what outfits to pair with brown heels, remember that brown is a neutral like black so you likely have plenty of possibilities in your closet.
Go Monochromatic
When in doubt, wearing your brown heels with other shades of brown - is the easiest option. A monochromatic outfit is an especially ideal option if you want to look taller and thinner, since it visually extends the line of your body. Pair your brown heels with a camel V-neck sweater and chocolate brown slim cut trousers for a look that works well at the office. If you want a more casual look, try a pair of chestnut corduroy pants and a tan t-shirt with your heels. When you're wearing a brown dress or skirt, wear brown tights with the heels to create a continuous line that elongates your frame.
Go Earthy
Brown heels can work well with outfits featuring earth tones. Pair them with a brick colored shirt dress and matching brown belt for the office. If you want a softer look, try your heels with a gold or terra cotta sheath dress. Earth tones don't just mean warm colors, though. You can wear brown heels with green shades too – pair a beige button-down blouse with an olive or forest green pencil skirt. You can even rock clothing in muted blue-gray shades with brown shoes for an earthy look.
Go Bold
Brown heels serve as a neutral just like black shoes, only they tend to have a softer look. That's why they're an ideal option when you're wearing bold clothing and don't want to make your outfit any busier. If you're wearing a dress or skirt in a bright color like red or hot pink, wear brown heels to help tone down the look. Brown heels also work well when you're wearing a top or dress in a striking pattern. Try coordinating your heels with brown-based patterns like cheetah print. Or, you can also wear your favorite brown heels with a navy and white striped dress to help ground the outfit.
Go Casual
While you may normally think of pairing your heels with dresses, skirts and trousers for professional or dressy occasions, you can also use them for more casual outfits -- particularly if they're brown. Black shoes tend to have a dressed up look, while the soft look of brown heels gives them a more relaxed feel. Try pairing your heels with dark wash jeans, a white tee and a camel blazer for a lunch date with friends or running errands. The heels can also work well with denim skirts – wear them with a denim pencil skirt and a cozy sweater for a comfortable and casual look.
References
Writer Bio
Based in New York City, Jennifer Blair has been covering all things home and garden since 2001. Her writing has appeared on BobVila.com, World Lifestyle, and House Logic. Blair holds a Bachelor of Arts in Writing Seminars from the Johns Hopkins University in Baltimore, Maryland.
Photo Credits
Stockbyte/Stockbyte/Getty Images