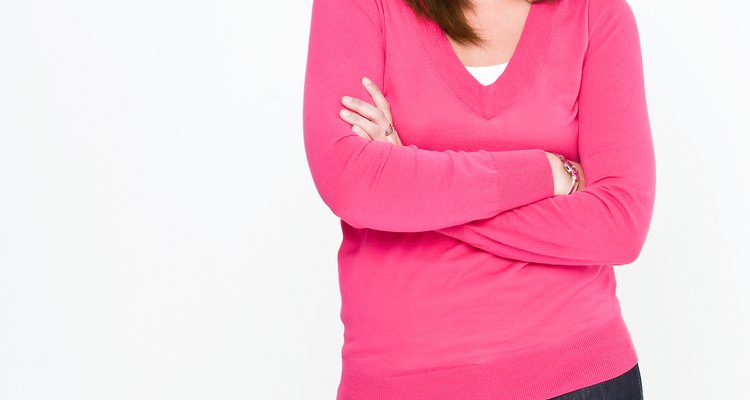 Jupiterimages/Photos.com/Getty Images
Whether they're ankle booties or a sexy knee-high style, suede boots can be a fashionable addition to your fall wardrobe. Choosing a neutral shade like taupe can make your boots one of the most versatile pairs of shoes in your closet. Taupe suede works with virtually any color and can even function as a nude shade for some skin tones. Without purchasing a single new item, you probably have plenty of pieces on hand that will mesh beautifully with taupe suede boots.
Casual Denim
For a look that's relaxed but still chic, wear your taupe suede boots with denim pieces for stylish weekend wear. Pair suede ankle boots with your favorite boot-cut jeans in a dark wash and add a cream-colored V-neck sweater or white button-down blouse for a polished daytime outfit. If you have knee-high suede boots, tuck them into skinny jeans or jeggings and slip on a tunic top or gray slouchy boyfriend sweater. Knee-high boots also work well with a denim pencil skirt and a button-down blouse for a more professional look.
Chic All-Black
Taupe suede boots look striking with an all-black ensemble since the lighter shoes will pop against the dark clothing. Pair taupe ankle booties with a snug black turtleneck or tailored button-down blouse and slim-cut black trousers for an outfit that can work at the office or out to dinner. A black shirt dress or sweater dress works well with knee-high taupe boots to deliver a dressy vibe. For a casual look, wear your taupe boots with a black V-neck sweater and black skinny jeans to create a relaxed but stylish pairing.
Bold Patterns
Since taupe functions as a neutral shade, your boots are the ideal pair of shoes to wear with patterned clothing that makes a statement on its own. Whether it's a traditional plaid button-down or a bold floral-print tunic, the boots won't compete with the pattern and can help tone a busy graphic print. Taupe boots in suede work particularly well with patterned silk because the difference in textures creates a striking appearance. Try your taupe knee-high boots and tights with a silk dress in an elegant paisley or modern chevron print for a chic cold-weather outfit.
Dramatic Colors
Just as with patterns, taupe boots work well with clothing in bright colors because they offset, rather than clash, with dramatic shades. Pair your suede boots with a knit sweater in hot pink or tangerine -- the chunky texture of the sweater contrasts with the smooth suede, while the taupe color helps soften the bright color. Taupe also works well with rich jewel tones. Wear an emerald green wrap dress or a ruby sheath and matching blazer with knee-high suede boots for a look fit for the office and after-work drinks.
References
Writer Bio
Based in New York City, Jennifer Blair has been covering all things home and garden since 2001. Her writing has appeared on BobVila.com, World Lifestyle, and House Logic. Blair holds a Bachelor of Arts in Writing Seminars from the Johns Hopkins University in Baltimore, Maryland.
Photo Credits
Jupiterimages/Photos.com/Getty Images