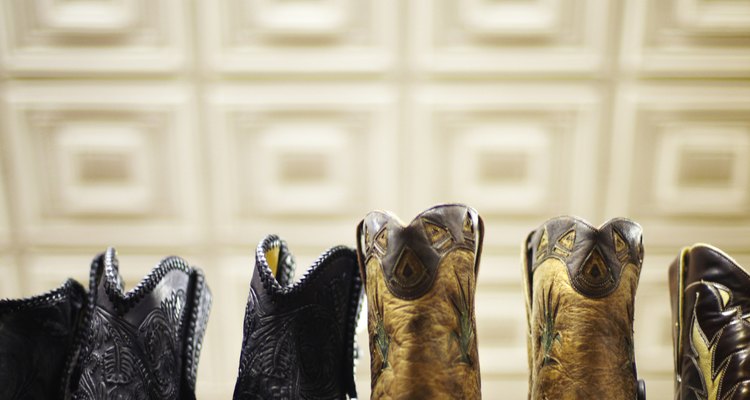 Thomas Northcut/Photodisc/Getty Images
Pairing your knee-length skirts with boots helps you to transition your wardrobe from summer into fall and winter. Finding the right pair of boots for this length of skirt can be a tricky task. In general, you'll want to ensure that you leave a bit of space between the hem of your skirt and the top of your boots to avoid looking dowdy.
High-Heeled Boots
A boot with a heel of 3 inches or higher elongates your legs and makes your figure appear leaner. This style works particularly well with knee-length skirts, because this length can cut off the line of your leg and make you appear a bit shorter. Choose a boot style in a texture different from the material of your skirt to add dimension to your look. For instance, if your skirt is suede, wear it with a leather boot.
Wellington Boots for the Weather
Perhaps the most practical type of boots, Wellingtons -- also referred to as "wellies" -- will keep your legs warm and dry during cold or wet weather. When wearing a skirt, you'll need this protection from the elements. Because wellies typically provide full calf coverage, your knee-length skirt will skim the top of the boots, providing ample coverage on days when the weather forecast is grim.
Cute Ankle Boots
Best for a knee-length skirt that's loose-fitting and fluid, short ankle boots create a casual, relaxed outfit. During the warmer months, wear ankle boots with bare legs. During the colder months, wear them with opaque hosiery. You could also wear a short trouser-style sock with an ankle boot, letting the sock peek out from the top -- just be sure the sock does not bunch or slouch to avoid looking unkempt.
Energetic Equestrian Boots
The equestrian boot, also referred to as a riding boot, is tomboyish by nature. Thanks to its sporty look, this style of boot can transform a ladylike knee-length skirt from dressy to edgy. Try a boot that has brass or gold hardware, such as buckles, ito maintain a feminine look. This pairing is particularly useful when you're looking to dress your skirt down for an informal or casual occasion.
References
Writer Bio
Leigh Shan has been writing about beauty, health, fitness, home and small businesses since 2007. Her work has been published in "The Queens Courier," "Queens Business Today" and "The Real Deal" newspapers, as well as "The World Scholar" magazine. Shan holds a Bachelor of Arts in journalism from Fordham University in New York City.
Photo Credits
Thomas Northcut/Photodisc/Getty Images