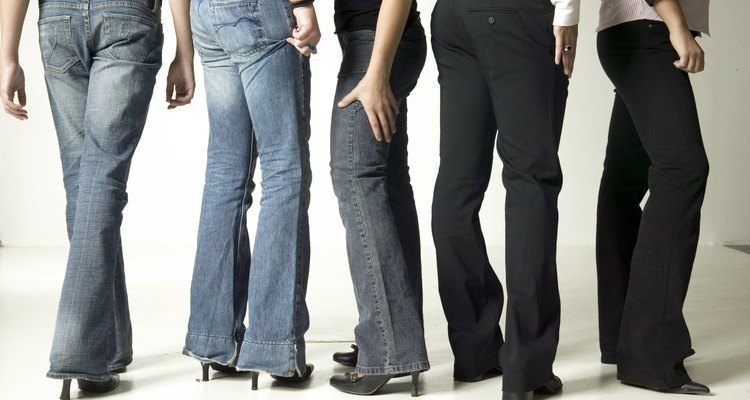 Photodisc/Photodisc/Getty Images
When it's time to wear the pants in the family, you have many styles and silhouettes to choose from. It can be difficult to find a pair with a perfect -- or near-perfect -- fit. The key is knowing what cuts flatter your figure best and make you feel comfortable and confident. Finding the right fit for your body shape will ensure you look good tackling your to-do list with style.
Boot Cut
Boot cut pants are designed for a tailored fit throughout the legs, with a slight flare at the bottom. As the name implies, these pants fit comfortably over boots, but they can be worn with any shoes. The shape of these pants helps elongate the legs. Boot cut pants look good on women who have larger hips and thighs, because the slight flare at the bottom balances out curves. When worn with high heels or wedges, the boot cut can make you look longer and leaner.
Ankle, Cropped and Capris
Ankle length or cropped pants are hemmed a tad shorter than normal, so they were once known as flood pants or high-waters. This cropped cut exposes the ankles to show off a fabulous shoe and keeps you cooler than long jeans in the summer. Capri-length pants are even shorter and hit at the calf. Ankle and capri pants usually have a straight cut from the waist, because too much flare would overwhelm this short length. Ankle or cropped-cut slacks look best on tall or thin women. Those with short legs should skip the capris and cropped pants, which can make their legs appear even shorter. Wear this style with flat shoes for a breezy summer style.
Wide Legs
Trousers or jeans in a wide-leg cut can help create an hourglass shape with the widening of material at the bottom of the pants. This extra volume gives you more room when you wear chunky boots or wedged heels. Wide-legged pants complement fuller-figured women; the added shape at the ankles can minimize the width of the legs and thighs, making you look and feel slimmer.
Skinny Cut
Skinny pants weren't created just for skinny women -- a misconception about the skinny cut. Skinny pants are form-fitting along the legs and can make petite women appear taller and leaner, especially when paired with high-heeled shoes. Any body type can wear skinny pants, even women with larger thighs. Just be sure to wear the right size. Pair skinny pants with an oversize blouse, or T-shirt and cardigan combo for a comfortable and stylish look.
Straight Legs
Many dress pants and trousers tailored for the office or formal wear have a straight-legged cut, which is a traditional style. They're also known as cigarette pants for their straight legs with no flare. The minimal width around the hem has kept the look simple but classic. Straight-leg pants fit average body types or more slender frames, because the tapered shape around the ankle can emphasize larger legs and thighs.
References
Writer Bio
Jennifer J. Petrini has been a writer, stylist and fashion show producer since 2001, contributing to "Ceremony Magazine," "MANIAC" and various websites. She is a graduate of Carnegie Mellon University, where she earned a Bachelor of Humanities and Arts in creative/professional writing and drama.
Photo Credits
Photodisc/Photodisc/Getty Images