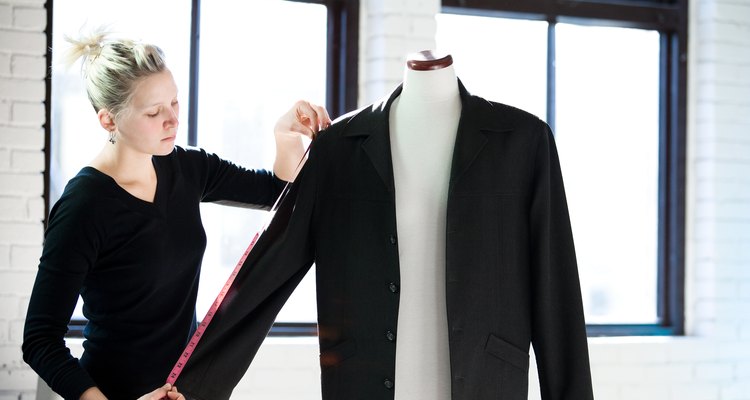 Jupiterimages/Photos.com/Getty Images
Men's suits were often tailored for a slim fit in the 1960s, and this trend has recently reemerged. Though typical tight jackets, pants and two-button coats can add bulk, there are other options for a slim-fit suit. Men of a wide range of body types can purchase and fashionably wear a slim-fitting suit. It is important to ensure that the proportions, fabric and length of the suit are optimally flattering for a given body type. Developing a working relationship with a tailor can aid in maximizing the slim-fit suit trend.
Evaluate the length of the pant legs and sleeve cuffs. A shrunken, short length is often found on slim-fit suits, which can visually lengthen the limbs. Extremely tall men or those who don't want to add the impression of height should steer clear of slightly shorter pants and sleeves.
Assess the print of the fabric to determine whether the suit will be flattering. Suits that feature a garish or large print or are in an very light color will not be slimming. Individuals who are trying to achieve a slimmer look should steer clear of a slim-fit suit with a horizontal fabric grain.
Consider the shape of the upper body. Slim-fit suits can emphasize a slender or athletic body type by mirroring the shape of the chest and waist. Men who are self-conscious about their midsections or small upper bodies should steer clear of slim-fit suit coats.
Seek double-breasted suit coats for an optimally flattering slim-fit. The majority of modern skinny suits feature a two-button jacket, which can add bulk to a plus-sized figure. Men who are dubious about their ability to appear trim and fashionable in a skinny suit should try a double-breasted suit coat. The double rows of buttons can narrow the appearance of the torso.
References
Writer Bio
Jasmine Henry has been a professional freelance writer since 2008. She has published literary criticism in the academic journal "The Birch." Henry holds a Bachelor of Arts in Russian and environmental science from Willamette University in Salem, Ore.
Photo Credits
Jupiterimages/Photos.com/Getty Images