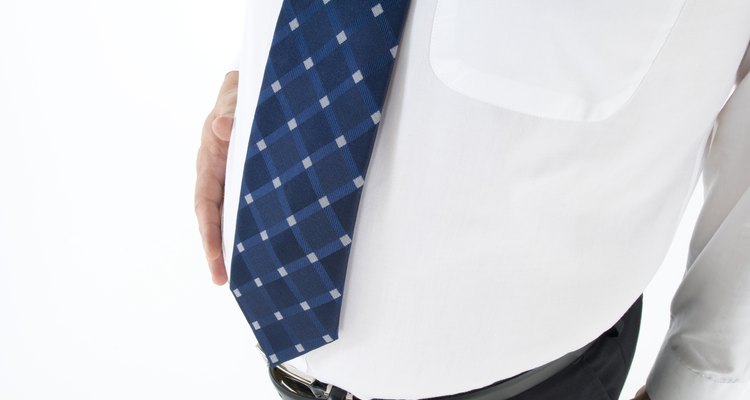 amanaimagesRF/amana images/Getty Images
Pants anchor an outfit, but when you have a large stomach, achieving a perfect fit takes extra effort. If you wear pants that are too large in the waist, the trousers droop in the crotch and thighs. When you wear pants with a tight waist, your belly bulge is accentuated, leaving you with an embarrassing look. The key to getting the proper fit is to measure your waist, including your belly. After you have the right measurements, buy the right style pants for the most flattering look for your body type.
Buy pants with a waistline that rests around the largest part of your belly. Wearing pants with a waist that rests above or below your belly is not the right approach. Do not rely solely on the waist and length measurements noted on the label; you may have to try on several different sizes for the best fit.
Select solid-colored pants without checks or patterns. Consider wearing pants with a slimming, flat front instead of a pleated front.
Tuck your shirt neatly into your pants.
Attach suspenders to the pants to keep them up over your stomach without cutting into your midsection. If you prefer to wear a belt, make sure the belt fits you properly and isn't too tight or too loose.
References
Writer Bio
Mimi Bullock's writing reflects her love of traveling the back roads of small towns and sampling the local cuisine. As a regular feature writer for "Southern Hospitality Traveler" and journalist for "Beachin' Magazine," she gets to experience the rich heritage of the southern culture. She is also a licensed cosmetologist who has her own skin care line.
Photo Credits
amanaimagesRF/amana images/Getty Images