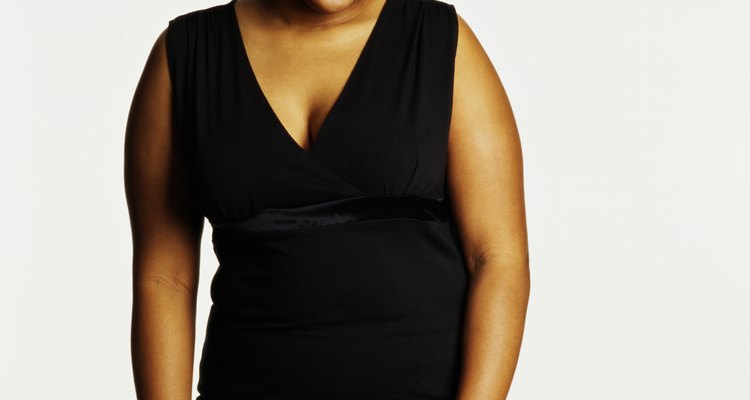 Digital Vision/Digital Vision/Getty Images
Wear clothing that complements your body and avoid the clothes that draw attention to unwanted areas, such as your midsection. When working with a larger midsection, also known as an "apple" shape, the trick is to draw attention away from the center and emphasize your other features. The way you dress not only shows off your style but also affects the way you feel about yourself, so dress your best. When shopping, keep in mind that fads will come and go from season to season, so always start with a solid base and then incorporate trends.
Look for tops that draw the eye upward instead of towards your midsection. Tops with embroidery, beading or lacing details will keep the attention upward, around your face. In addition, tops that are darker in color such as black, navy and charcoal will create a slimming look for your body. Longer tops, such as tunics, are ideal to conceal a midsection because they do not define the waist.
Wear straight-leg, tapered or slightly flared pants to create a slimming look for your torso. The ideal pant will be flat-fronted with pockets only on the back to keep the eye away from your midsection. Pants that contain front pockets, zippers and pleating, or those that are too tight, should be avoided.
Shop for A-line skirts that contain no pleating or detailing around the waistline. If you want the skirt to have embellishments, shop for skirts that have hemline detailing or come in bright and bold colors. Skip white A-line skirts because these give the illusion of a larger midsection.
Search for dresses that do not have a defined waist, similar to a tunic, or that have a drop waist. Avoid wrap dresses, or dresses that gather near the middle of your body. In addition, wear darker colors when wearing a dress and complete the look with nude heels. Wearing a slimming color and nude heels with instantly lengthen your body to create a trimmer appearance.
Select longer jackets that hit below the hips. Avoid belting long jackets as it draws attention to the middle area. Wear single-breasted jackets and avoid snapping or buttoning them closed. Avoid wearing cropped jackets or belted jackets.
References
Writer Bio
Tabitha Harwell has been writing since 2008, with articles appearing in local publications and various websites. Her background includes a career in the fashion and beauty industry. Harwell holds a Bachelor of Arts in public relations.
Photo Credits
Digital Vision/Digital Vision/Getty Images