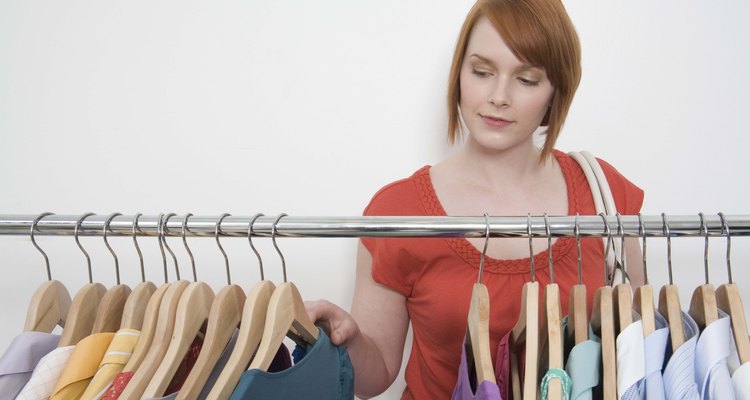 Jupiterimages/Brand X Pictures/Getty Images
It's easy to look your best when you know which clothes to pick for your body type. Rectangle body types are one kind of figure that looks chic in a variety of clothing. A rectangle figure is a boyish or athletic body type, with more straight lines and few curves. Adding femininity to a rectangle figure and creating curves seems challenging, but it's simple to do with the right clothing styles.
Pants
Women that have more athletic shapes should wear clothing that highlights their bodies, but still creates a curvier figure. Avoid wide-leg pants that make your silhouette look too boyish. Snug-fitting skinny jeans, slightly flared boot-cut trousers and anything form fitting can make you look more shapely. Avoid anything that cuts off the legs, such as capris or midrise pants.
Tops
Certain types of tops, like wrap tops, can help create the illusion of curves. Anything with details or embellishments, such as collars and ruffles, and scoop neck or V-neck shirts all work well, too. If you like jackets or blazers, opt for a fitted style that has a cinched-in waist. A buttoned jacket is even better.
Skirts
Skip straight skirts, which only define your length instead of creating a more feminine figure. Stick with full-silhouetted skirts that offer layers, ruffles or other details such as flared pleats. Skirts can be any length, but if you have great gams, show them off in a short style for a womanly look. The traditional A-line skirt works well for rectangular body types and keeps the look soft.
Dresses
The wrap dress is an athletic woman's secret weapon. Cinch the dress in to whittle the waist and make your shape pop. Choose dresses with darts or drapery to add fullness to your figure. Adding a belt to highlight your small waistline is another option. Avoid any dresses that have a square neck or an undefined waist.
References
Writer Bio
Christi Aldridge has been writing professionally since 2009. She graduated from Texas Christian University, where she was a featured contributor for several campus publications and won an award for best columnist.
Photo Credits
Jupiterimages/Brand X Pictures/Getty Images