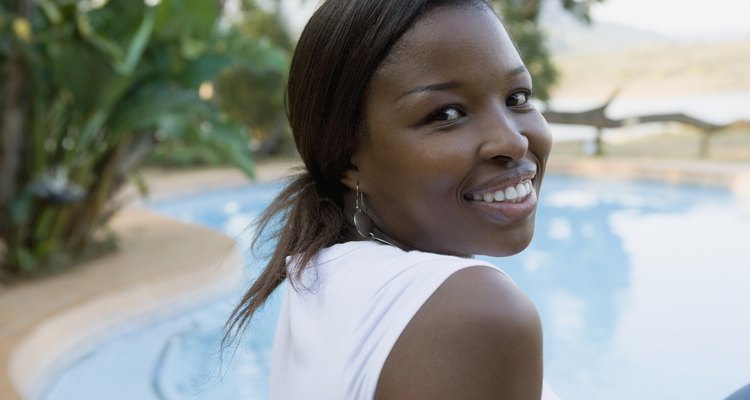 John Lund/Marc Romanelli/Blend Images/Getty Images
Women with an inverted triangle body type typically have broad shoulders, which can be both a blessing and a curse. Broad shoulders allow clothing to hang nicely and can make the waist appear thinner. They can also make some women feel masculine and self-conscious. Using some styling tricks, girls can make their shoulders look smaller in clothing while still making the most of their body type.
Select a top with a narrow collar. If going sleeveless, wider straps that span from the base of the neck to the shoulder or halter tops work because they draw the eye inwards and away from your shoulders. V-necks have the same effect. Avoid square collars and spaghetti straps.
Look for clothing in dark shades like black, navy and forest green. These colors are very slimming, and will streamline the overall look.
Opt for pieces that are fuller on the bottom. This will balance the figure out and remove the focal point from the shoulders. Choose dresses and skirts that flare out at the waist, or wide legged pants over more fitted options.
Accessorize with statement jewelry. Large necklaces, dangly earrings and thick belts will all bring attention elsewhere, while making the shoulders appear smaller in comparison.
Choose longer jackets and sweaters that land at the hip. This will help to create a longer shape, as opposed to accentuating the triangle shape.
Avoid shoulder padding and gathered shoulders, which will only make the area appear larger. Most shoulder pads can be safely cut out of clothing for a more flattering shape.
References
Writer Bio
Celeigh O'Neil has been writing professionally since 2008. She has a Bachelor of fine arts from the University of Ottawa, as well as degrees in fashion illustration/design, digital arts and certification in hair and makeup artistry. O'Neil was a frequent contributor to Toronto's "Dialog" newspaper and has worked as an instructional writer, creating lessons in fashion, art and English for students of all ages.
Photo Credits
John Lund/Marc Romanelli/Blend Images/Getty Images