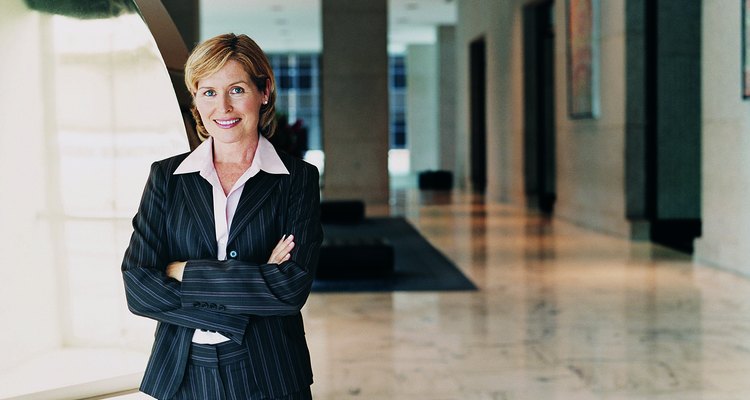 Digital Vision./Digital Vision/Getty Images
Not all striped pants go with everything, but black pinstripe pants come very close to being a neutral. The classic trousers lean toward a business or formal look, and you can feel confident wearing them thanks to their classic style and versatility. Combining these pants with the right top can give you a professional outfit for the workplace or an elegant vibe for a special occasion.
Jackets
To create a corporate ensemble, wear your black pinstripe pants as a suit with a matching jacket or paired with a jacket in black, gray or navy blue. A versatile tweed jacket also complements pinstripe pants. If you work in a more laid-back environment, wear a jacket in a color such as red, green or pink and push up the sleeves. Apple shapes should avoid double-breasted jackets; these create the illusion of excess weight in the stomach area. If you are pear-shaped, choose jackets that rest on your hips or thighs. Cropped jackets fit well on hourglass and wedge shapes -- these jackets will draw attention to a slim waist.
Shirts and Tops
You'll look impeccably tailored and professional in a white, navy, gray or beige collared shirt combined with your pinstripe pants. A fitted shirt with vertical darts below the bust accentuates the chest and adds a tailored look to the pants, so this shirt is flattering for anyone with a small bust. Horizontal darts on the sides of the bust highlight curves and work well for an hourglass figure. A simple T-shirt or polo shirt in any color may be suitable for a relaxed office setting. Tuck the shirts in, and wear a belt. Tops with open necklines are suitable for all body types, accentuating the neck and collarbone to give the appearance of a taller stature.
Sweaters
In cooler weather, wear your black pinstripe pants with just about any style of sweater. Bright colored sweaters will liven up your look. Cardigans can be worn buttoned down for a conservative look or open for a relaxed touch. Turtlenecks are suitable if you have a long neck. Apple shapes look best in V-neck sweaters, which create the illusion of a longer torso. Square and boat necks are flattering on pear shapes. To continue the classic style, accessorize these sweaters with jewelry such as pearls, chain necklaces or chokers.
Tops for Special Occasion
When you're going out on the town or to a party, combine these menswear-inspired pants with tops that provide a feminine touch. Perk up your black pinstripe pants with a ruffled or lace top for an after-work gathering. For a cocktail party, wear a top with embellishments on the neckline or throughout. Tops with sequins, beads or faux gemstones dress up the pants for a holiday or cocktail party. Accessorize with classic pumps, slings or peep-toe heels. A beaded, satin or leather clutch in a pop of color adds a statement to the ensemble.
Writer Bio
Donna Peterson has been covering fashion, style and trends since 2001. Her articles have been featured in "Supermodels Magazine," and she obtained The Fashion Award from The Modeling Association of America, Inc. in 1996. Peterson holds a Bachelor of Business Administration with specialization in advertising from Baruch College.
Photo Credits
Digital Vision./Digital Vision/Getty Images