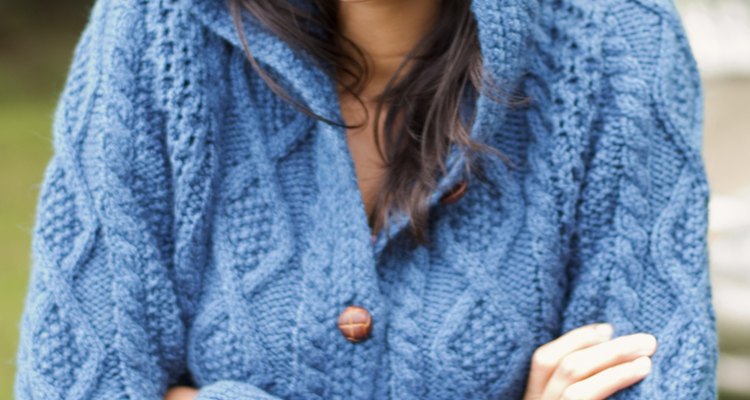 Creatas Images/Creatas/Getty Images
No longer is the hoodie just a college dorm-room staple, or a topper to pull on after a sweaty session at the gym. The modern hooded sweatshirt or sweater -- in pullover and zip-front form -- can be embraced for its casual cool, or it can be dressed up so that you won't look dowdy. Consider a hoodie's cut, color and fabric when pairing it with everything from shorts to a little black dress.
Keep It Proportional
To look chic in a hoodie, avoid the stereotype of the dumpy sweatshirt that hides your figure. Apply the same rules of balance to the cut of a hoodie as you would to any top. If the cut is generous and relaxed, make sure your bottoms are cut in a slim-fitting style, such as skinny jeans or leggings. If the hoodie is tailored for a slim fit, you can wear relaxed bottoms, such as boot-cut jeans, wide-leg trousers or coordinating sweatpants. If a zip-up hoodie fits close to your body and reveals skin when you sit or bend over, consider layering with a longer slim-fitting tank or tee in a slinky fabric that doesn't add to the hoodie's bulk.
Embrace Color and Texture
Today's hoodie ranks far and beyond the basic gray sweatshirt -- it has been translated into a variety of fabrics and eye-popping colors. To look good in a hoodie, experiment with the myriad options for a touchable and colorful topper. A hoodie pullover or zip-up can come in a traditional sweatshirt fleece -- perhaps with embellishment or branding to dress up the look -- or in a stretchy polar fleece that hugs the body a bit more. The hoodie can come in rich velour hues that beg to be touched and in cozy terry that makes you feel comfortable when you're down. Hoods have also found their way onto sweaters, giving the style a dressier edge in cashmere blends and cable knits. Designers have had fun dressing up the hoods, as well, edging them with faux fur or lining them with plush fabric next to your skin.
Casual Doesn't Mean Sloppy
Pulling off a casual look in a hoodie isn't synonymous with looking sloppy. Pair a hoodie with your favorite pair of jeans and add cute accessories such as sandals or embellished flats, along with a designer-logo handbag or velour tote. Use a lightweight hoodie as a layer under a tailored jacket or blazer for a casual and comfortable touch to a polished look, ensuring that the hoodie is thin enough that it doesn't add bulk. If you're aiming to look cute in a hoodie tracksuit, consider mixing up the top and bottom colors or picking a hoodie in a bright color that pops. When pairing a relaxed hoodie with slim track pants, or a shrunken hoodie with relaxed lounge pants, add texture and an element of surprise with an angora scarf, a warm pair of shearling boots or a crocodile-embossed leather satchel.
Dress for Hoodie Success
If you're headed to the office or getting ready for a night out on the town, the right hoodie can add texture and warmth without robbing your look of sophistication. Keep the accessories chic and the lines slim and clean. Pay special attention here to the finish of the fabric, as a hooded sweatshirt will bring down a dressy look while a soft, trim-fitting black cashmere hoodie pairs perfectly with black-and-white pinstripe trousers and heels. Use your statement jewelry to lend a dressier, funkier edge to this casual staple. Try a hooded poncho with long gloves to ward off the chill in a little black dress, or use a hoodie trimmed in sumptuous faux fur as a zip-up jacket to top off a date dress.
References
Photo Credits
Creatas Images/Creatas/Getty Images