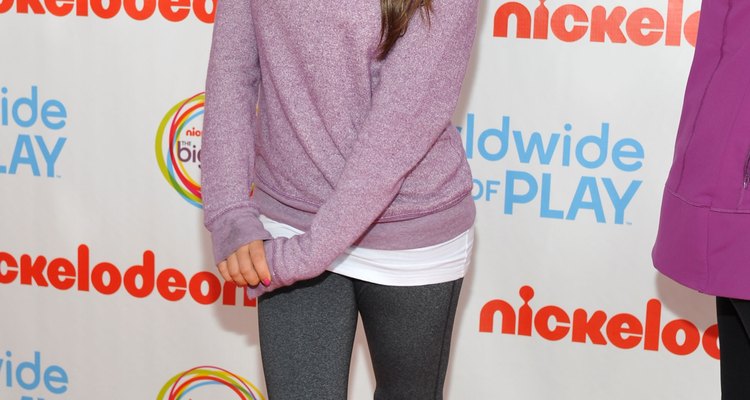 Mike Coppola/Getty Images Entertainment/Getty Images
There's no denying the comfort of a loose-fitting sweatshirt, and in cold weather, it can be an ideal top to help keep you warm. However, an outfit with a baggy sweatshirt can easily look sloppy and shapeless if you don't style it properly. Instead of swapping cute for comfortable, get the best of both worlds by pairing the right sweatshirt with the right pieces.
Get the Right Fit
All baggy sweatshirts are not created equal -- if you borrow one from your husband, father, brother or boyfriend, it can look sloppy and make you look larger than you actually are. Choose an oversized sweatshirt designed for a woman's body. It won't be the most slimming item in your closet, but it won't totally swallow your frame. Women's baggy sweatshirts often feature interesting design features too, like an asymmetrical hemline, to give the item a little more style.
Get Skinny
When you're wearing a loose-fitting top, it's important to balance your outfit by choosing pants that have a slim fit. Skinny jeans are an ideal option with an oversized sweatshirt. They match the casual look of your top, but have a snug fit so you don't look too bulky. If your sweatshirt is long and loose, you can also pair it with comfortable leggings -- just make sure that the top is long enough to cover your backside. Pair your sweatshirt and jeans or leggings with tennis shoes, ballet flats or boots for a low-key outfit that's ideal for weekends.
Go Layered
A baggy sweatshirt often has a tendency to slip off the shoulder because of its loose fit, so you may wind up flashing your bra strap if you're not careful. Layering your sweatshirt over another top helps prevent you from exposing anything that you don't want to. Choose a fitted shirt like a tank top or camisole so the sweatshirt doesn't look any bulkier. Opt for basic white, or give your outfit a little personality by choosing a tank or cami in a bright color like magenta, red or cobalt so it peeks out and spices up your look. If you don't want to layer anything under your sweatshirt, opt for a strapless bra or one in a neutral color like black or nude so it doesn't stand out.
Limit Accessories
A baggy sweatshirt adds plenty of bulk to your outfit on its own, so you don't want to load yourself down with other items that make you look bigger -- take this as your cue to keep accessories to a minimum. Instead of scarves, dress up your look with simple jewelry. To elongate your look, opt for a long chain with an oversized pendant or locket at the end. If you're not a fan of necklaces, go with bold earrings like hoops or chandelier style. You can even roll up your sleeves and add a couple of bangle bracelets or a single cuff to polish off your look.
References
Writer Bio
Based in New York City, Jennifer Blair has been covering all things home and garden since 2001. Her writing has appeared on BobVila.com, World Lifestyle, and House Logic. Blair holds a Bachelor of Arts in Writing Seminars from the Johns Hopkins University in Baltimore, Maryland.
Photo Credits
Mike Coppola/Getty Images Entertainment/Getty Images