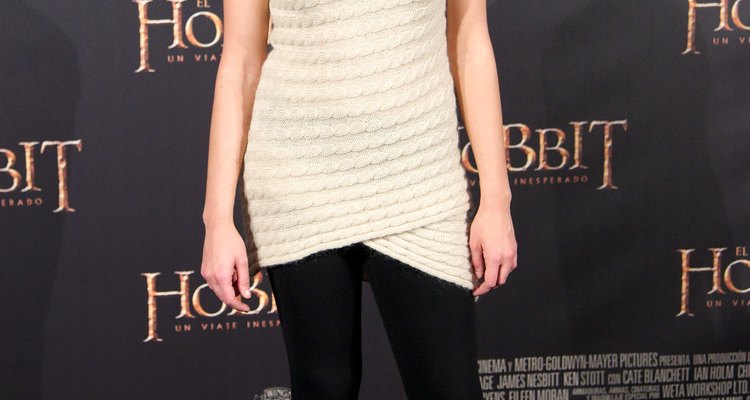 Carlos Alvarez/Getty Images Entertainment/Getty Images
In the fall and winter, a sweater dress can be the centerpiece of an easy, chic outfit. If you want a sweater dress with a little more personality, though, a cowl-neck style can definitely make your look more striking – and the draped neck can flatter a variety of body types. The cowl neckline helps minimize a large bust, but it can also add some volume to a smaller chest. However, because the neckline tends to stand out, you may need to adjust the way you style your sweater dress slightly so your outfit doesn't become too busy.
Belt It Up
Because there's so much volume in a cowl neckline, your sweater dress may overwhelm your figure. To help ensure a flattering fit, add a belt to cinch it and accentuate your waist. Play with texture to give your outfit personality – pair a smooth patent leather belt with a cable-knit sweater dress or a suede braided belt with a fine-gauge sweater dress. You can also create a contrast with color. A winter-white cowl-neck sweater dress pops when you slip a black belt over it, while a coral belt can instantly spice up an understated navy dress. When it comes to choosing the width of the belt, though, use your body as a guide. If you're long-waisted, opt for a wide belt to balance your frame. A thin belt is a better option if you're short-waisted.
Create Balance with Shoes
With the volume in the sweater dress's cowl neck, choosing the right shoes to pair with it is key if you want a balanced look. Ballet flats and other small, delicate shoes can sometimes make you look top-heavy. Instead, select shoes that have a stronger look to balance out the cowl neck. Boots are an ideal option with a sweater dress – pair a knee-high style with the dress and textured tights to stay warm on cold days. Ankle booties also work well. If you're wearing your dress to the office, opt for pumps with a stacked heel. If you do choose flats, go with a pair that features hardware like a buckle across the toe or studded details to counter the volume of the cowl neck.
Go Layered
Even with its distinctive neckline, a cowl-neck sweater dress can be an ideal layering piece. Wear a fitted blazer over it to help define your waist and give you a chic look for the office. Instead of the usual tights, try wearing your sweater dress over a pair of leggings for a comfortable weekend look – add knee-high or ankle boots, and you've got a stylish, casual look. If your sweater dress's cowl neckline drapes low, layer it over a camisole or tank top so you don't feel self-conscious about your cleavage. A cami with lace trim is an attractive option.
Skip a Necklace
Wearing a necklace with a cowl-neck sweater dress can be tricky since the neckline has such a bold, distinctive look. Instead of wearing a necklace that competes with the cowl neck, choose other jewelry options that can spice up your look. A pair of large, bold earrings is an ideal complement to the cowl neck – try a pair of large gold hoops or a beaded chandelier style in a shade that contrasts with your dress. If you feel like your dress needs a little something near the neckline, opt for a striking brooch instead of a necklace. You can pin it on the cowl neck itself or on either side to draw attention to the neckline. If your dress features three-quarter sleeves or you plan to push up your sleeves, a stack of bangle bracelets or a single dramatic cuff can also dress up your look.
References
Writer Bio
Based in New York City, Jennifer Blair has been covering all things home and garden since 2001. Her writing has appeared on BobVila.com, World Lifestyle, and House Logic. Blair holds a Bachelor of Arts in Writing Seminars from the Johns Hopkins University in Baltimore, Maryland.
Photo Credits
Carlos Alvarez/Getty Images Entertainment/Getty Images